Pirelli F1 boss Mario Isola says drivers will need to be much more attentive to track limits next weekend at Spa due to the presence of additional gravel traps around the track.
Spa-Francorchamps is undergoing an €80 million renovation programme, the first part of which was completed last spring with the construction of a new grandstand above the sweeping uphill Eau Rouge-Raidillon complex and several change to the track's run-off areas.
Raidillon was a major focal point of the changes, with the daunting corner's left-hand run-off area moved back significantly in a bid to improve safety while the run-off at the top on the right also extended.
However, gravel traps have been put in place on the outside of several corners where drivers typically abused track limits.
Such is the case on the exits of La Source, Turn 6 and 7 at Les Combes and at the reprofiled downhill Turn 9 left-hand corner.
"In addition to some new asphalt on five corners, there are some new gravel traps on four corners, which are much closer to the side of the track," commented Isola.
"Drivers will need to pay more attention to track limits, and there's also an increased chance of sharp gravel being dragged onto the surface.
"The epic nature of Spa remains unchanged though, with all the traditional challenges that make the circuit so exciting still in place."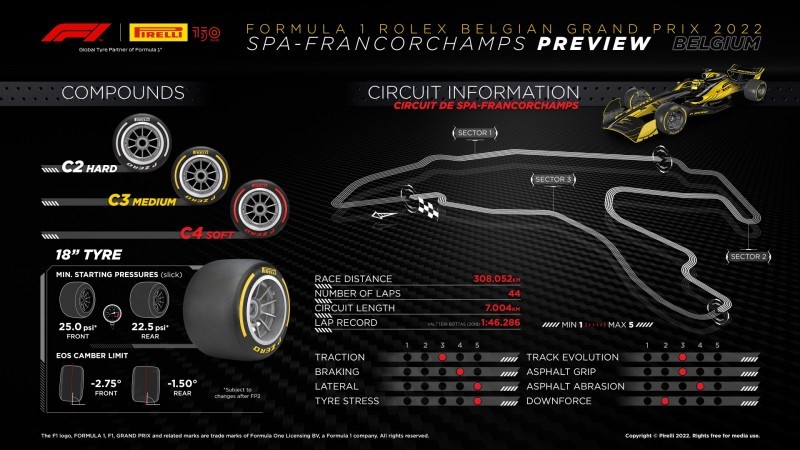 With high lateral loads, Spa is one of the most demanding circuits on the calendar for tyres, and Pirelli has opted for the three compounds in the middle of its range: C2, C3 and C4.
Sadly, last year's race was famously washed out, and the vagaries of the weather in the Belgian Ardennes could once again wreak havoc on proceedings this year and force Pirelli to roll out its green-banded intermediate or blue full wet tyres.
Keep up to date with all the F1 news via Facebook and Twitter