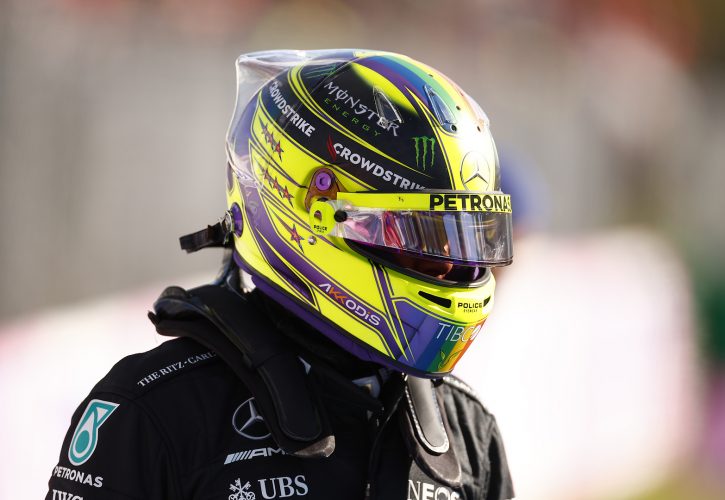 Lewis Hamilton fears he'll be facing a tough and frustrating Sunday afternoon at Monza, spent mainly in a DRS train as the Mercedes driver chases from behind.
Hamilton qualified fifth on Saturday, one spot ahead of teammate George Russell, but a full-blown engine change and grid penalty will see the seven-time world champion line up on the back row of the Italian Grand Prix grid.
"It was an OK session," Hamilton said. "It wasn't my best session.
"I think in Zandvoort it was pretty good but I think the car was feeling even better then. I think naturally today we were off the pace but fifth was the best I could do.
"I am losing two-tenths in the last sector so ultimately as a competitor I am like I need to figure out those last couple of corners but nevertheless I am generally happy with it."
Like Spa, Monza's high speed, low-downforce layout isn't the best mix for Mercedes' troubled W13.
"We were expecting it as we saw it at Spa," Hamilton said.
"It's the lowest wing downforce level, that's where we seem to be particularly worse than the others but when we go to a circuit like Budapest which is maximum downforce we're in a much better place."
Read also:
And a low-drag rear wing configuration also tends to mitigate the effect of F1's Drag Reduction System.
As a consequence, Hamilton fears he'll find himself "stuck" in an inevitable DRS train during the race.
"I was thinking of just taking my iPad with me in the race and when I'm in the DRS line just watch…there's a new Game of Thrones out," Hamilton joked.
"I was behind Valtteri [Bottas] in practice and couldn't catch him nor pass him.
"I hope I don't get stuck tomorrow, but I'm imagining everyone will be stuck in a DRS train and it will just be sitting there and waiting for the strategy, tyre degradation and those sorts of things to come into play."
Keep up to date with all the F1 news via Facebook and Twitter