F1 teams will enjoy an extra 30 minutes of track time after Friday's second practice session at Suzuka to test Pirelli's 2023-spec prototype tyres.
The extended session is part of Pirelli's 2023 development programme that has unfolded this year, during which Formula 1's exclusive tyre supplier has gathered the relevant data during testing and on race weekends to improve its product for next season.
"An innovation for this year is the fact that we will be testing some 2023 prototype tyres during an extended free practice session on Friday afternoon, as we finalise the specification for next year with the end of this season approaching," confirmed Pirelli F1 boss Mario Isola.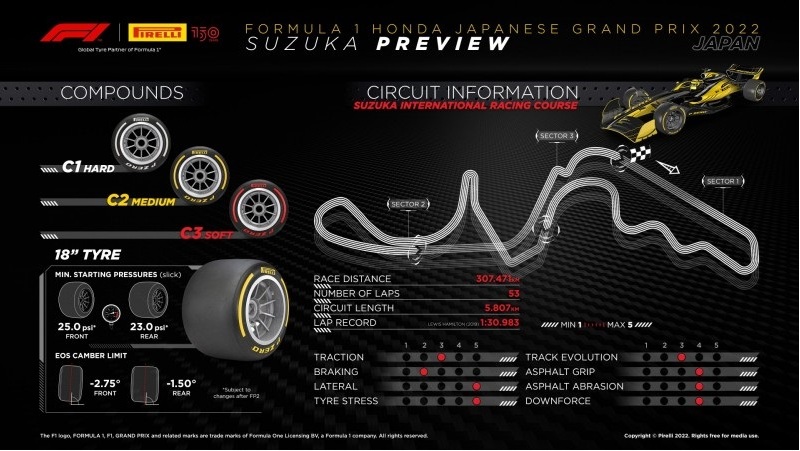 In Japan, the Italian manufacturer is supplying teams with its three hardest compounds – C1 to C3 – and it will the final outing of the year of the C1 hard rubber.
Like last weekend in Singapore, teams haven't raced at Suzuka since 2019, which once again elevates the challenge as each outfit approaches the circuit, weather conditions and set-up work with a blank sheet.
"Ask the drivers which are their favourite circuits and Suzuka will always be high on the list," commented Isola.
"It contains demanding corners like nowhere else, such as 130R and Spoon, as well as a truly special atmosphere and history with incredible fans.
"There's a roughly equal number of left and right corners in the unique figure of eight layout, which means that the circuit demands are evenly balanced.
"The sustained energy loads through the tyres are some of the highest we register all year, and the track layout means that we bring the three hardest compounds in our range because of the high levels of tyre duty.
"With the latest generation of cars being heavier than before and the limits of performance constantly being pushed, that challenge is bigger than ever now."
Keep up to date with all the F1 news via Facebook and Twitter