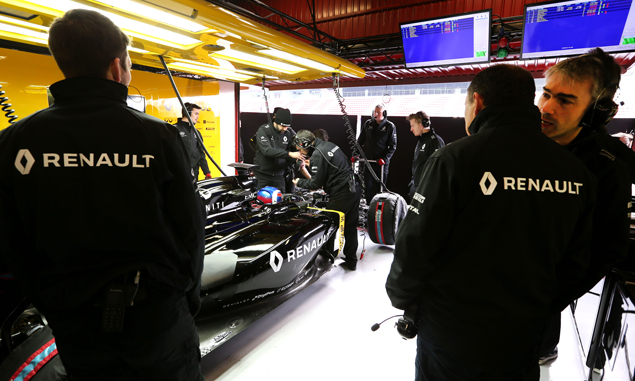 Renault racing director Frédéric Vasseur says he is "very happy" with how his team performed in F1 pre-season testing coming off a challenging 2015 campaign and "very late" Lotus takeover.
The French manufacturer bought out the cash-strapped Enstone outfit last December and only had a couple of months to insert a Renault power unit in a chassis initially designed for a Mercedes engine.
Although Renault experienced a series of glitches across the eight days of running in Spain – which mostly affected Jolyon Palmer –, the team still managed to complete 782 laps this winter, 75 more than McLaren-Honda for instance.
"It was a bit challenging to be in Barcelona for us, considering that we took over the company very late," Vasseur said. "To be on the track at 9 a.m. on the first day was the first challenge.
"We know perfectly from where we are starting and where we want to go, we know that it is a long way, but I don't want to be under pressure to do something – I think the most important is if we have to fulfill some position is to do it with the proper guys. I am very happy with the team so far."
Lotus' dire financial situation last year resulted in a series of freight delays and even saw bailiffs move in at Spa-Francorchamps while its crew members were locked out of their hospitality at Suzuka. But the Enstone outfit never wavered in the struggle and was able to hang on until Renault's much welcomed commitment.
"There is a real team spirit," Vasseur added. "They had to face a tough time last year, and by the way they were able to build a very strong relationship into the team. It is not all but it is part of the success. Now I want to have a global view on the system, and we will improve step by step."
ANALYSIS: The two F1 pre-season tests by the numbers
Keep up to date with all the F1 news via Facebook and Twitter