Lewis Hamilton has confirmed that he's not ready to turn his back on Formula 1 just yet, despite having experienced his most disappointing season in the sport since he made his bow in 2007.
Hamilton's unbroken run of seasons with at least one pole position and race win came to an end in 2022, as Mercedes struggled to get on top of problems with their 2022 chassis.
It meant that just a year after just narrowly missing out on his eighth drivers champion to Max Verstappen in an incredibly close-fought 2021 season, Hamilton slumped to P6 in the standings putting him behind team mate George Russell.
But the 37-year-old insists that this hasn't diminished his passion for the sport - and indeed, has only reenergised his determination to go out on a high with another title.
"I think retiring as a world champion is a dream that every athlete has - and so do I," he told Germany's Bild newspaper in an interview that took place before Christmas. "I know how hard it is to be at the top and to stay there. We want to get back to the top.
"We obviously wanted to fight for the world championship last season, but we had to face the reality early in the season. Still, some results felt like victories when they weren't.
"I appreciate achievements even more now. After the race in Brazil, when George Russell won and I finished second, I was incredibly happy about this team effort.
"We'd had so many hits before that it felt a little empty. We won, but that was expected. That's weird because it's actually such a great thing. So it was all the nicer to see how happy we were about the small stages."
Despite the disappointments of the early half of the season, Hamilton had been boosted by the improvements the team made over the rest of the season.
"The whole team worked great together, even better than before. The year was definitely not a disappointment for me.
"It definitely doesn't demotivate me," he insisted. "I'm sure I've had seasons without a win before - it must have been in karting in 2001.
"What gives us great hope is the end of this season. The last few races have shown a clear positive trend and prove that with perseverance we can achieve anything.
"We fought for fifth place and everyone was excited. Then it was a matter of fourth place and everyone was absolutely thrilled. It was a nice experience to be so happy with a fourth or fifth place.
"Also feeling the feeling of fighting your way forward, of having first, third or second place: We're almost there. This is something we all needed."
But Hamilton admitted that his relationship with this year's W13 chassis had continued to be somewhat strained, to put it mildly.
"Let's put it this way: talking also helps in a relationship like this," he laughed. "We understood each other better and better as the season progressed."
Whether Mercedes can make up enough ground to put itself back into title contention with Red Bull and Ferrari in 2023 remains to be seen.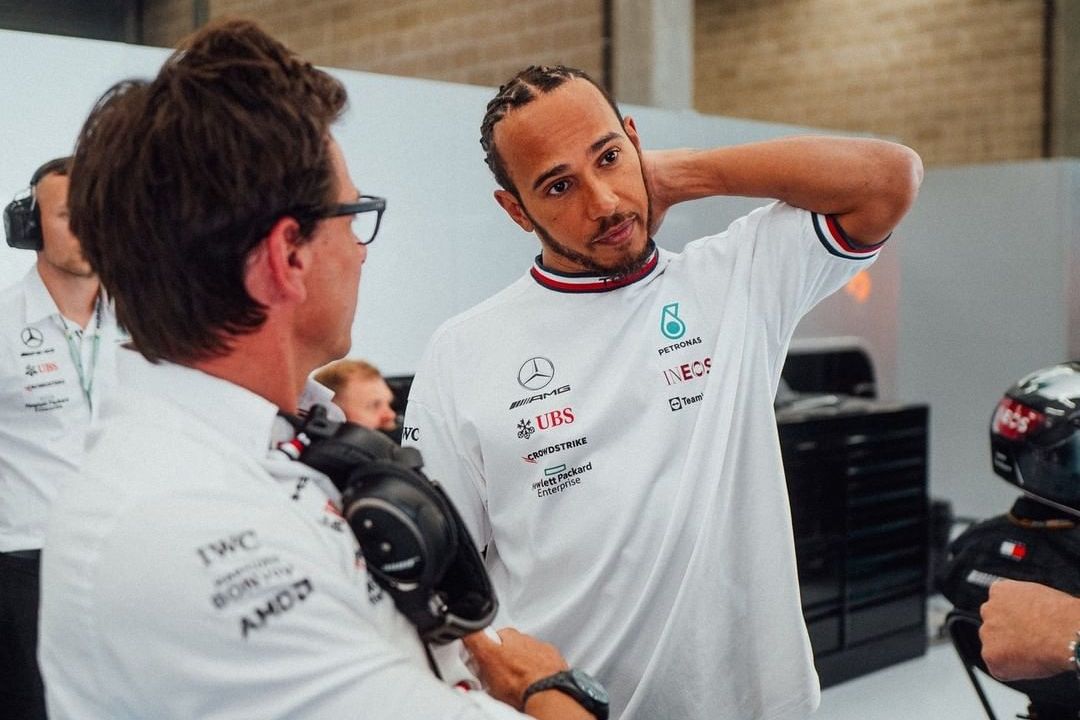 If not, then Hamilton will need an extension to his current contract that expires at the end of the year.
"We haven't started with that yet," Hamilton said when asked about contract negotiations. "So far we haven't had the time, we've been on the road for two months at a time.
"Sometimes you wake up and have this feeling, I don't want to do this anymore. And sometimes you wake up and think, I can still do other things my whole life, there is definitely more I want to achieve.
"It won't be a terribly long time now, but I'll definitely be staying."
Gallery: The beautiful wives and girlfriends of F1 drivers
Keep up to date with all the F1 news via Facebook and Twitter