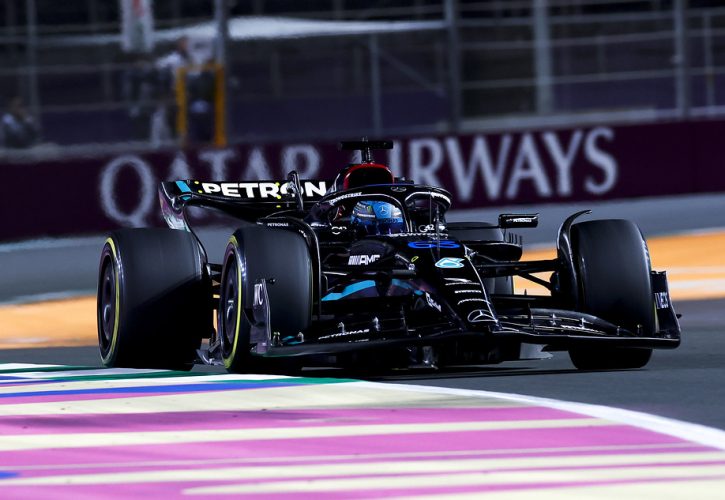 George Russell aims to maximise Mercedes' package in Jeddah, but admits the Brackley squad "won't find one second overnight" based on its learnings from Friday.
Mercedes headed into its Saudi Arabian Grand Prix weekend with some minor updates introduced on its W14 car.
The team adjusted its work programmes to the different conditions that were in force in Friday's pair of sessions but with the common purpose of gaining a better understanding of its car and its development direction.
In FP1, Russell was fifth fastest with Lewis Hamilton just one spot behind. But in FP2 which saw a mix of single-lap performance runs with long running later in the session, Russel was again P5 while Hamilton finished the day in P11.
"We gathered plenty of data to go through tonight," commented Russell.
""We will be aiming to maximise the package we have got and get the set-up in the sweet spot.
"As much as we would love to, given all the hard work everyone is putting in, we know we won't find one second overnight.
"Red Bull are clearly out in front, but we are learning lots about our car. These learnings will help us in both the short and medium-term.
"As is always the case in practice sessions too, we're not sure what power modes everyone was running so we will know more tomorrow."
Read also:
Although Hamilton completed the run programme to which he was assigned, the seven-time world champion admitted that he had struggled in both sessions.
"We will continue to go into the details overnight and focus on improving the balance of the car to make it easier to drive," he said.
"It's a tough car to drive but I know everyone is working so hard at the factory. It won't be solved overnight and will take some time, so we just have to be patient and give it everything we can here at the track."
Mercedes trackside engineering director Andrew Shovlin, who described the team's session as having gone smoothly, echoed Russell's comment about the need for Mercedes to make the most of the package it has at its disposal.
"After Bahrain, we came here with realistic expectations," he said.
"While the team back in the UK is working hard on developing us to a better place, our focus has been to maximise the potential of what we currently have.
"There were a couple of scheduled upgrades that look to be working OK but while taking us in the right direction, they are not a huge step.
"The sessions themselves went smoothly; we were struggling with the front end in the first session and may have over-corrected for the second session.
"Nevertheless, we've got plenty of information to pick through to work out the setup for tomorrow.
"The pace when we get the lap together didn't look too bad, but the car hasn't been easy enough to drive so that's something we'll look to improve tomorrow ahead of qualifying."
Keep up to date with all the F1 news via Facebook and Twitter