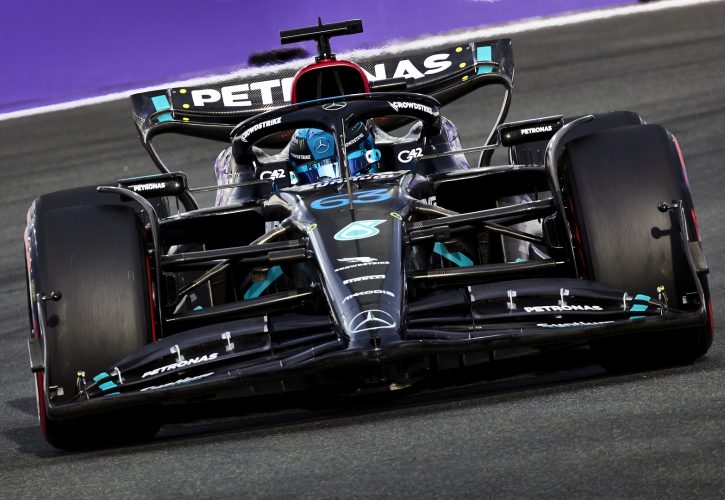 George Russell says he was "incredibly satisfied" to qualify fourth in Jeddah on Saturday, a result that surpassed his and Mercedes expectations.
The Brackley squad arrived in Saudi Arabia this week on the back of a disappointing performance in Bahrain, and with limited ambitions after recognizing the flawed concept of its 2023 car.
Russell was outpaced in qualifying by Red Bull's Sergio Perez – the lone bull among the top-ten following Max Verstappen's retirement from the session due to a mechanical failure – and by Charles Leclerc's Ferrari and Fernando Alonso's Aston Martin.
But the Briton - who will start Sunday's race third following Leclerc grid penalty - was extremely satisfied with his overall performance relative to Mercedes rivals after working hard on his W14's set-up throughout free practice.
"As a driver, I'm doing all I can to help push the team forward and develop, work more than I've ever worked on a simulator and trying things," Russell said.
"And when you come to a track and as a team deliver something more than you could have hoped and expected, that's incredibly satisfying.
"One small part of the brain is frustrated that we're not fighting for poles and victories but, as a driver, you've got to dim that out and just focus on maximising the performance. And I'm incredibly satisfied with what we achieved today.
"We've got a lot of good tools. We've got a good simulator back at base, we've got a good group of people. And I think the work we did overnight, the work we did this morning, we got it in a really, really decent window."
Mercedes has devised a comprehensive plan to develop its way forward, but the team's first significant update is likely still "four or so races" away.
But Russell feels that what has been extracted from Mercedes' W14 this weekend is a promising sign.
"I think it's probably four or so races before we can see a bit of a difference," he explained.
"We're already making good steps, good progress and I think it's sort of validated the incorrect direction we took over the winter.
"The fact that we've probably managed to find more performance in a week than we found in almost a month over the winter, that's promising to a degree.
"But we've been in this position before. It's never as straightforward as that and we just need to make sure that every single box is ticked."
Keep up to date with all the F1 news via Facebook and Twitter