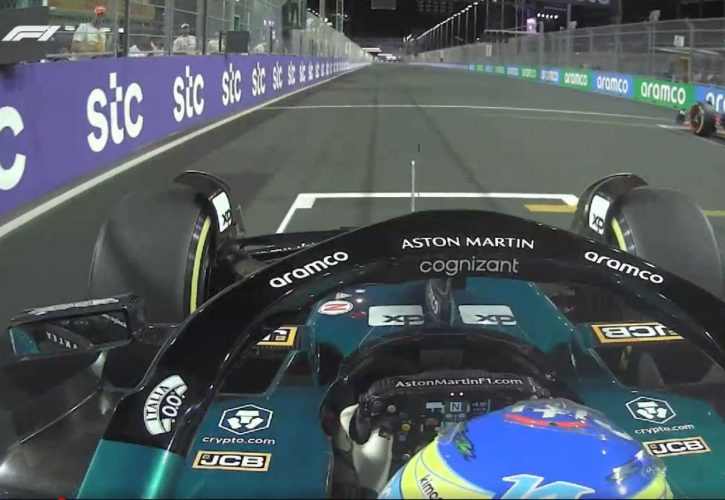 Mercedes' George Russell believes that F1 stewards should show "a bit more common sense" when judging grid slot offenses as those that recently committed quite inadvertently by Esteban Ocon and Fernando Alonso.
Ocon was handed a five-second penalty in Bahrain for lining up on the grid slightly to the right of his grid slot markings, a minor transgression from which the Alpine charger gained nothing at the start of the race.
Unfortunately, the same issue happened to Alonso last weekend in Jeddah as a consequence of the Spaniard positioning his Aston Martin just a few centimeters to the left of his lateral grid box markings.
Given the limited visibility onboard F1's new-generation cars, in which drivers are sat low with a line of sight impaired by their car's larger tyres and wheelbrows, Russell suggests that drivers should be offered a bit more leeway by the stewards.
"It's incredibly difficult," commented the GPDA director. "We're sat so low and to put some perspective, we only see probably the top four or five inches of the tyre so you can't actually see the ground itself.
"We've got these big long yellow lines pointing out… I can't even see the yellow line, let alone the white lines determining your lateral position.
"It's really, really tough so that's why I think in this regard we need to show a little bit more common sense."
Red Bull's Max Verstappen echoed Russell's view on the drivers' visibility constraints.
"The visibility is just really poor in the car, that is probably the main issue where you end up sometimes not fully correctly in your box," Verstappen said.
"It is painful when it happens but it's a bit the same with the white line with track limits. Sometimes you argue: did you gain anything going wide or not, going outside of it?
"I think at one point we do need a rule. It looks really silly if people start to take advantage of going really left and right but I don't know what we can do better."
"It's really difficult just to see where you've stopped," he said, admitting he even stopped earlier to be on the safe side."
Saudi Arabian Grand Prix winner Sergio Perez admitted to giving himself a bit of margin in jeddah relative to his grid slot's front marking.
"It's really difficult just to see where you've stopped," he said.
"In my opinion I just overdid it and I stopped too early, but you have no idea when you are in the car. You don't know if you went too far behind or too far forward.
"We need better visibility to be able to come up with a better idea than we currently have it. It's good that there is a rule in place, but at the same time sometimes it's like luck, to be honest, where you position yourself."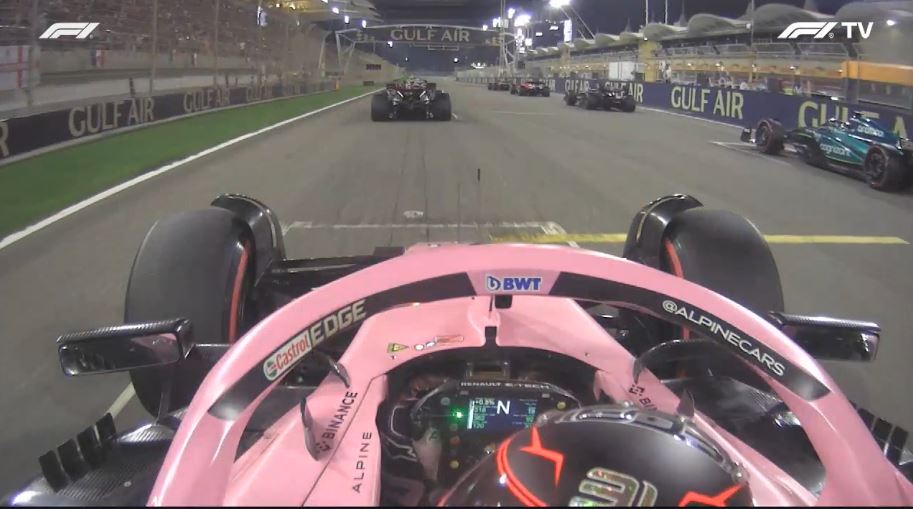 Alpine sporting director Alan Permane agrees that sanctioning a driver for positioning his car centimeters outside of its lateral grid slot markings is "harsh and unnecessary".
"I think what seems a little bit draconian is this new regulation of where the car has got to stop on the grid box," said Permane.
"No one is getting an advantage from being 10 centimetres over on one side or the other side. I don't quite really see why.
"And they're free to paint the grid boxes as wide as they want, there doesn't seem to be regulation for that.
"I don't know if that'll be reviewed, but giving people penalties for having their wheels over in a car where the drivers can't see those lines – they can see them as they come up and then as they get close to them, they just disappear – it feels harsh, it feels unnecessary.
"Esteban today, he's been concentrating on it of course all week. He said he got to the grid today and he had no idea where he was. He said you cannot see, you don't know at all. It's a strange one."
Permane expects the subject to be tabled at the next meeting of F1's sporting advisory committee.
"I'm sure we will, we've got a meeting later this week, we can bring it up."
Keep up to date with all the F1 news via Facebook and Twitter