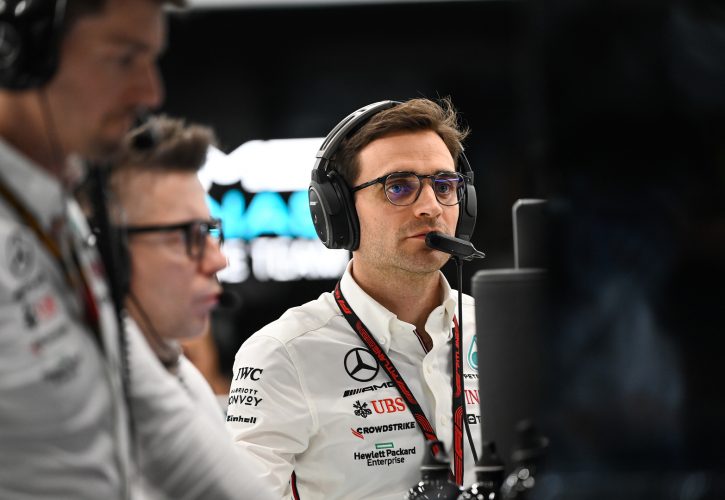 Ex-F1 driver Jerome D'Ambrosio has joined Mercedes as its driver development director, but the Belgian will have an opportunity to grow within the team's organization according to Toto Wolff.
D'Ambrosio has taken over the responsibilities previously assumed by now Williams team boss James Vowles with regard to Mercedes' junior driver programme and the management of its young talent. But the three-time Formula E winner will also oversee simulator driver development at Brackley.
However, D'Ambrosio won't be on his own as he'll be working alongside long-standing Mercedes-AMG driver development advisor Gwen Lagrue.
"He's looking after the young driver programme in very close cooperation with Gwen [Lagrue], who has been doing it very successfully over the last few years," explained Wolff, quoted by RaceFans.
"With Gwen's team we are looking at grassroots motorsports from the early stages of go-karts. This is where Gwen is very active, he was the one working with James, and now within the Brackley structure it's Jerome who has taken that over.
"He's looking at things and there's plenty of plenty of scope that James did beyond the strategy work. So I see Jerome growing in the organisation, but at this stage, that's his area."
D'Ambrosio and the Wolff family are well acquainted as the Belgian worked under the orders of Susie Wolff during his tenure as team principal of the Monaco-based Venturi Formula E squad, for which the Scot was the acting CEO.
But the relationship between Toto Wolff and D'Ambrosio also goes back to the Belgian's early years as a young driver.
"I have known Jerome since a long time, because back in the day when he was in the Renault driver development [programme], I thought about managing him," explained the Austrian.
"So it's 15 or 20 years ago, and then we had a look again at him when he dropped out of the programme. So I've known him as a racing driver, but never from the human standpoint, and never from the managerial side.
"When Susie offered him the option to jump out of the cockpit into a management role, he took it with both hands and they were quite a good competitive duo, and Jerome led it into another year and finished second in the FE championship."
Wolff alluded to D'Ambrosio's involvement with Mercedes potentially leading to a promising career within the team's management structure.
"He has the knowhow of having been a racing driver at a very high level. He was a go-karting world champion.
"He's been in F1 and on the other side, the skills as a manager. Where that will lead him is a question.
"Today it's at a very early stage. He is just coming in the driver development part and administrative functions. And we shall see where that goes."
Keep up to date with all the F1 news via Facebook and Twitter