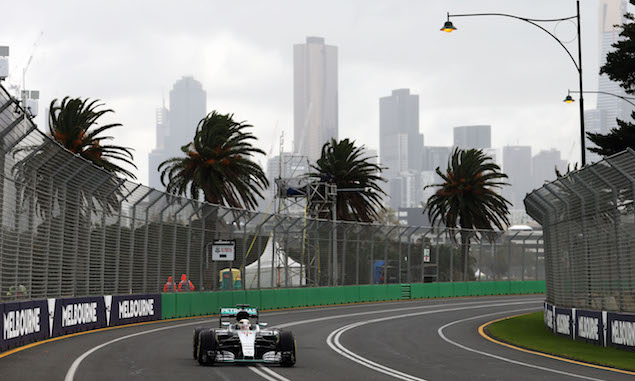 Lewis Hamilton was fastest in a rain-hit first practice session for the Australian Grand Prix which saw teams struggling to complete laps in the dry.
The defending world champion set the pace with a 1:29.725 to lead Daniil Kvyat in the Red Bull by 0.4s. Third quickest was Daniel Ricciardo but he was caught out by rapidly changing conditions late in the session and ended FP1 in the gravel at Turn 12.
Heavy rain and high winds ensured a difficult start to the first practice session of the 2016 season, meaning very little running took place during the first 30 minutes. Installation laps were completed on intermediates or full wets, but the wind meant breaks in the weather were frequent if short. One such break after half an hour saw drivers start to head out on slicks but unable to complete laps before rain returned.
A similar improvement in conditions with 15 minutes to go saw a flurry of laps completed on soft tyres, with Hamilton going quickest ahead of Ricciardo. The likes of Nico Rosberg, Sebastian Vettel and Kimi Raikkonen were all unable to register their times, however, before a further shower hit Albert Park.
Another break in the cloud came with less than 10 minutes remaining and saw most drivers get in a time, with Kvyat briefly going fastest before being usurped by Hamilton. Ricciardo then slid wide in the final two minutes as heavy rain again started to fall, with the Red Bull becoming beached in the gravel on the outside of Turn 12.
Ricciardo wasn't alone in going off, with Felipe Massa, Esteban Gutierrez and Raikkonen all running wide during the session. Raikkonen's excursion came in the closing moments but the Ferrari was able to take to an escape road to rejoin. However, the weather meant neither Ferrari driver registered a representative lap, with Raikkonen 11 seconds off the pace Vettel not setting a time.
The only other driver not to set a time was Carlos Sainz who stopped in the pit lane at the end of his installation lap and managed just two further laps in the session. Fortunately for the Toro Rosso driver, he missed out on little running due to the weather as Jenson Button registered the highest total number of laps with 16.
Both McLarens ended the session in the top eight, with Button one place below team-mate Fernando Alonso but over three seconds off Hamilton's best time. Nico Hulkenberg, Max Verstappen and Nico Rosberg separated the McLarens from the top three, with Verstappen one of the first drivers on to soft tyres and spinning at Turn 8.
Follow the opening day of the 2016 F1 season LIVE
F1i's Australian Grand Prix preview
2016 F1 season: Team-by-team preview
| Pos | Driver | Team | Time | Laps |
| --- | --- | --- | --- | --- |
| 01 | Lewis Hamilton | Mercedes | 1:29.725 | 14 |
| 02 | Daniil Kvyat | Red Bull | 1:30.146 | 14 |
| 03 | Daniel Ricciardo | Red Bull | 1:30.875 | 13 |
| 04 | Nico Hulkenberg | Force India | 1:31.325 | 8 |
| 05 | Max Verstappen | Toro Rosso | 1:31.720 | 14 |
| 06 | Nico Rosberg | Mercedes | 1:31.814 | 11 |
| 07 | Fernando Alonso | McLaren | 1:33.060 | 11 |
| 08 | Jenson Button | McLaren | 1:33.129 | 16 |
| 09 | Sergio Perez | Force India | 1:33.370 | 6 |
| 10 | Kevin Magnussen | Renault Sport | 1:34.060 | 13 |
| 11 | Valtteri Bottas | Williams | 1:34.550 | 6 |
| 12 | Felipe Massa | Williams | 1:34.679 | 6 |
| 13 | Felipe Nasr | Sauber | 1:34.796 | 7 |
| 14 | Jolyon Palmer | Renault Sport | 1:35.477 | 12 |
| 15 | Marcus Ericsson | Sauber | 1:37.956 | 6 |
| 16 | Pascal Wehrlein | Manor | 1:40.401 | 6 |
| 17 | Kimi Raikkonen | Ferrari | 1:40.754 | 10 |
| 18 | Esteban Gutierrez | Haas | 1:41.780 | 8 |
| 19 | Rio Haryanto | Manor | 1:43.372 | 7 |
| 20 | Romain Grosjean | Haas | 1:43.443 | 6 |
| 21 | Sebastian Vettel | Ferrari | | 8 |
| 22 | Carlos Sainz | Toro Rosso | | 3 |