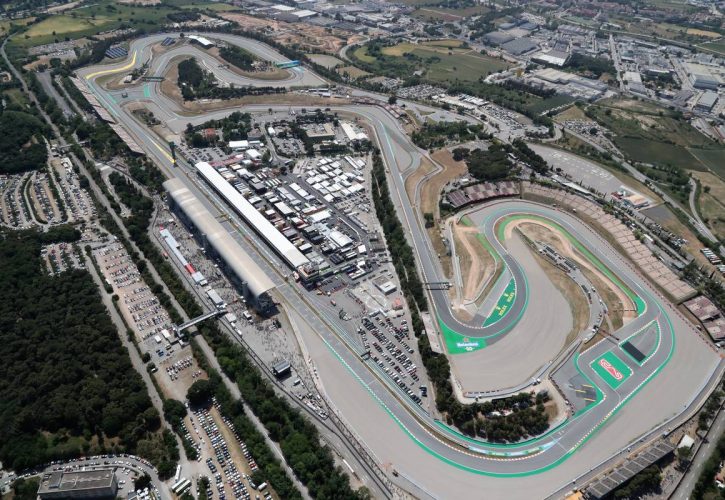 Lewis Hamilton says Barcelona's new configuration which has stripped the track of its chicane complex is "going to be fun".
Since 2007, Formula 1 has run at the Circuit de Catalunya with a chicane located between Turn 13 and 16 breaking down the speed of the cars just before the track's final right-hand corner.
But with everyone exiting the final corner at more or less the same speed, the configuration greatly limited overtaking opportunities down Barcelona's main straight and practically rendered ineffective F1's DRS.
Since last year, the circuit undertook the necessary work to erase the complex, which required Barcelona to seek a new Grade 1 homologation from the FIA for its altered, faster layout, which it obtained.
"Our car has never liked that chicane, I've never liked it," admitted Hamilton last weekend in Monaco.
"So we're going to come out of turn 12 and then flat, probably flat-out through the last two. It's going to be great for our neck, great for tyre wear, and it's going to be fun."
Read also:
Ferrari's Charles Leclerc anticipated the heavy load on the left-front to stress tyre wear this year.
"I think the left-front will be crying for the whole race," commented the Monegasque. "It's the same for everybody.
"It's going to be a big challenge I think in terms of set-up also to try and help that left-front as much as possible.
"I hope that with the new parts we bring we will be good with tyre management because I expect this to be the main thing in Barcelona."
McLaren's Lando Norris echoed his colleagues' comments and expects tyre management to become an even greater factor at the Circuit de Catalunya.
"Turn 12, which was the right-hander originally, was already a killer for the front-left and now we've got two high-speed corners," said the Briton.
"It might become a bit more of a management race, even more than what it is, and it's already a huge management race.
"Maybe it kind of pushes everyone to be more like one-stop [or] two-stop kind of thing. I've got no idea.
"Maybe the pit stops will be a bit higher, I'm not sure. We'll wait and see. But I look forward to it."
Haas' Kevin Magnussen is eager to experience the new layout and believes the sweeping change will have a positive impact on overtaking in the race.
"It's going to be exciting to try the original layout without the chicane," said the Dane. "It always seemed like a great sequence of corners – the last two corners – with it being so high-speed.
"Let's see what that does for overtaking. I have a feeling it might be slightly better for overtaking but time will tell."
Keep up to date with all the F1 news via Facebook and Twitter