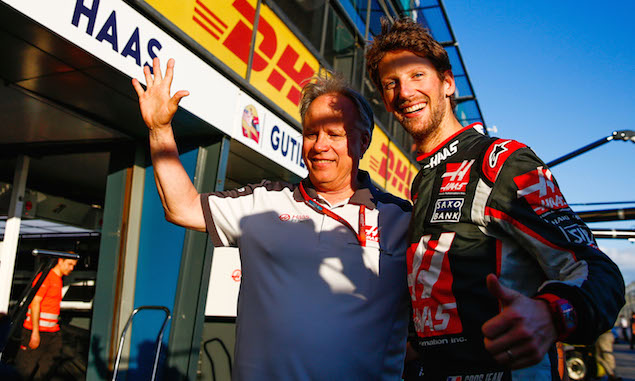 Romain Grosjean's sixth place in the first ever race for Haas "feels better than a win", according to team owner Gene Haas.
Haas' first race weekend in Australia had not gone smoothly as the team qualified 19th and 20th with Grosjean and team-mate Esteban Gutierrez respectively on Saturday. Both drivers were set to improve during Q1 but fell foul of the new elimination qualifying format, which will revert to the old style qualifying in Bahrain.
During the race in Melbourne, a crash involving Gutierrez and Fernando Alonso led to the race being stopped, and Haas took advantage by putting Grosjean on medium tyres which he managed to make last to the end of the race and hold of Nico Hulkenberg for sixth place. Points on debut is a special achievement, and the team owner was left ecstatic after the race.
"Well for us it's a win," Haas said. "I feel like this is probably better than a win because it kind of validates everything that we've worked on for five years to get to this point. It's also a real morale booster for all the guys working here, it validates that when they signed on to work for Haas F1 that they made the right choice.
"Especially for Grosjean. He took a big risk when he decided to leave Lotus and come here and in retrospect it's almost crazy to want to sign up for a team that doesn't exist but he did it and he drove his heart out and for us it feels better than a win."
Having previously raced in NASCAR, Haas admits he has entered F1 at a much more competitive level but says his previous racing experience has helped.
"What we did today took five years in NASCAR, but learning what I did in NASCAR is there's just certain things you put together. You've got to get the right people, the best equipment you can get and that's how you win. It's a formula that we learned the hard way and now we're trying to repeat it."