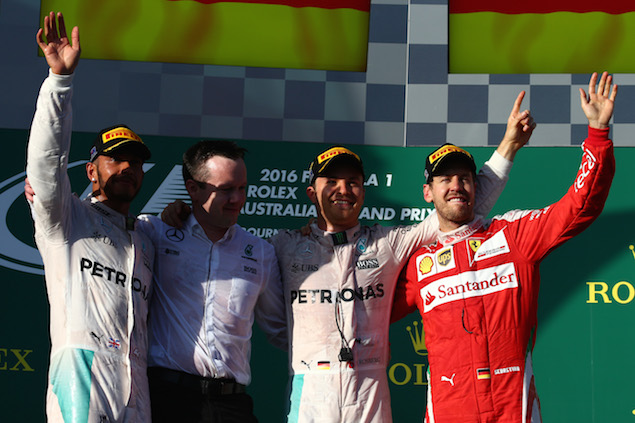 Bernie Ecclestone believes Ferrari will present a greater challenge to Mercedes this year, but the F1 supremo still sees the reigning Constructors' champions come out on top.
Mercedes has been the dominant force in the sport since 2014 but Ferrari emerged as a threat last year. The Scuderia seems to have made a further dent in the German constructor's edge in 2016 as it came close to winning a wild season opener in Melbourne.
Having jumped both Lewis Hamilton and Nico Rosberg at the start, Sebastian Vettel opened a nice gap in front until the race was red-flagged following Fernando Alonso and Esteban Gutierrez' crash.
Ferrari went for an aggressive strategy and kept Vettel on the supersoft tyre, which forced the four-time world champion to do one more pit stop than Rosberg who has switched to the medium compound during the interruption.
"It was a good show, right?" Ecclestone told La Gazzetta dello Sport. "Mercedes won, but Ferrari showed they are better than last season. What a start from [Sebastian] Vettel! The progress that has been made is evident, even Mercedes know that. It will be a great season.
"I'm hoping for a great fight between Ferrari and Mercedes.
"I think they will split wins evenly, but Mercedes will win the title."
Also asked to give his predictions about the Drivers' championship fight, Ecclestone thinks Hamilton will seal a fourth crown.
Mercedes won 16 out of the 19 grands prix in each of the past two seasons, with only Daniel Ricciardo (in 2014 with Red Bull) and Vettel (2015) breaking its hegemony.
Ecclestone has been repeatedly attacking Mercedes and Ferrari in recent months, saying their influence on the decision making process could end up "destroying F1" and accusing the manufacturers of forming "a cartel".
FEATURE: Silbermann says... Another tyre-some change
Technical analysis - Melbourne
Keep up to date with all the F1 news via Facebook and Twitter