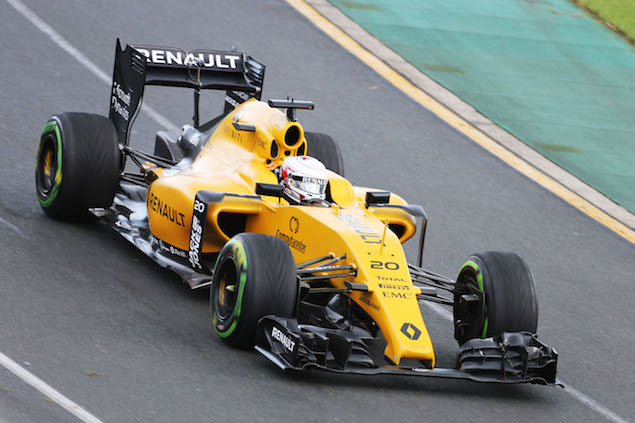 Jolyon Palmer and Kevin Magnussen will have a new front wing specification on their Renault R.S.16 for the Bahrain Grand Prix after the prototype version trialled in Melbourne gave satisfaction.
Making its return as a fully-fledged F1 team in Australia, Renault only tested the design on Magnussen's car in free practice. Following the successful evaluation, the French manufacturer, whose winter preparations were affected by its late take over of Lotus, says the new front wing will make its race debut in Sakhir. next weekend.
"We brought a prototype front wing to Melbourne that Kevin used and it appears to have lived up to expectations," said Renault's chief technical officer Bob Bell. "It will be on both cars in Bahrain."
Speaking about Renault's development programme for the 2016 season, Bell added: "We will obviously be approaching development on two fronts: engine and chassis. In the first half of the year we will concentrate on the engine and have a normal development programme for the chassis.
"We will have the standard aero developments from race to race, as everyone will do, then have the complex mechanical items that will come through when we get into the European testing programme.
"I think we have a credible plan to advance the car but obviously we have to balance what we want to do next year versus our aspirations for this year."
FEATURE: Silbermann says... Another tyre-some change
Technical analysis - Melbourne
Keep up to date with all the F1 news via Facebook and Twitter