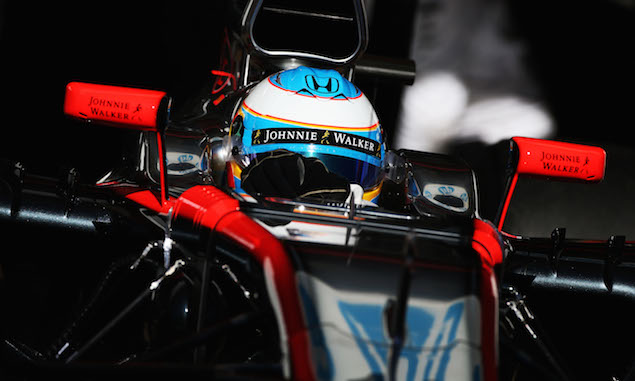 Ron Dennis says McLaren is resting Fernando Alonso this week to give him the best possible chance to be fit for the Australian Grand Prix.
Alonso crashed on the final day of the second test at the Circuit de Catalunya and was airlifted to hospital with what McLaren originally said was concussion. Speaking to the press in Barcelona, Dennis says there were no signs of concussion despite Alonso having lost consciousness as a result of the accident but the team is being cautious with his recovery on the advice of the doctors.
"If you then ask the question of 'why was he for three days in the hospital?' It's because there was a period of unconsciousness," Dennis said. "It was relatively short. The G figures of the accident were significantly less in his helmet than they were in the car. Significantly less is less than half.
"The head restraint is primarily designed for forward and aft movement … so it was surprising that they wanted to be so careful. There are reports of some inability for recall, that's again normal when you're shaken like this. He's completely lucid, talking, wants to drive, wants to go testing and all the rest of it.
"The doctors said 'Look, if you really want to be sure and you want to give him the best chance of going to Australia and not being any conditions then the best thing to do is just to rest him'. We're not going to go against the wishes of the doctor, so it's as simple as that."
Asked how long Alonso was unconscious for, Dennis replied: "When he came to rest all we know is the radio was on and we could hear him breathing but there was no other noises. They're saying seconds, only seconds."
Dennis also confirmed that Kevin Magnussen would drive in Melbourne if Alonso was not passed fit to race, which is why the Dane will drive during the final test at some stage.
Click here for live coverage of testing from Barcelona
Driver line-ups for the final test
Click here for the gallery from day one of the final test