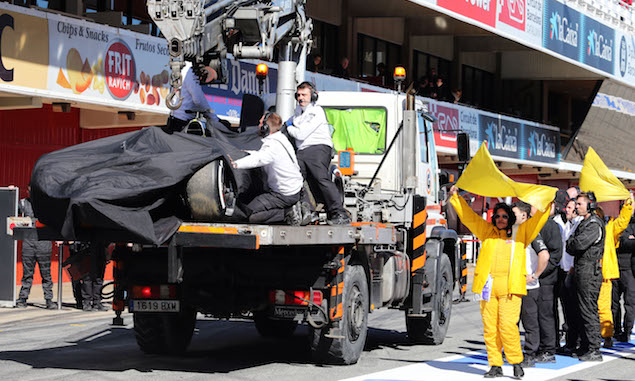 Ron Dennis says he approached the FIA to ask it to look in to the circumstances surrounding the Fernando Alonso crash during testing.
Alonso crashed at the Circuit de Catalunya, hitting the wall on the inside of the track between turns 3 and 4 and having to be airlifted to hospital. While saying that Alonso is uninjured - with not even a mild concussion being picked up on hospital scans - Dennis says he spoke to FIA safety delegate Charlie Whiting about analysing the incident which left Alonso hospitalised for three days.
"I personally contacted the FIA - through Charlie - on Monday and suggested that we review the situation," Dennis said. "So the involvement of the FIA is by ourselves.
"The FIA are very interesting in looking at the helmet position in relation to the structures. We want to share everything to satisfy the FIA, we're being thorough."
And Dennis says there is nothing obvious in McLaren's data to suggest a cause for the accident other than the strong winds it has previously highlighted, adding that there is poor footage from circuit cameras.
"What we can't see is anything illogical. He brakes in to the corner, he changes gear down through the corners and then the accident starts to happen. We can't forensically determine what happened other than nothing broke, there was nothing abnormal that we could see on the system.
"If there had been good footage it perhaps would have been more relevant, but the accident was very fast, it was something between two and three seconds."
Click here for live coverage of testing from Barcelona
Driver line-ups for the final test
Click here for the gallery from day one of the final test