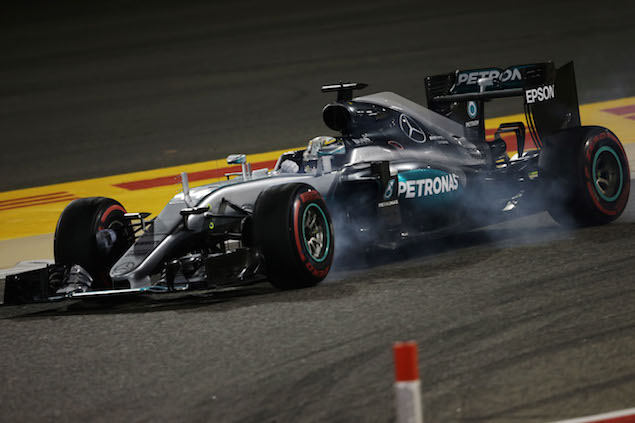 Mercedes motorsport boss Toto Wolff has revealed that Lewis Hamilton's stricken W07 was losing around one second of performance per lap during the Bahrain Grand Prix.
Starting from pole, the triple world champion experienced a poor start and was hit by Williams' Valtterri Bottas on the inside as he turned into the first corner.
Despite substantial damage on the car's front wing endplate and leading edge of the floor, Hamilton managed to continue and recover to a third place finish some 30s behind race winner and team-mate Nico Rosberg.
Asked how much performance was lost on the Briton's Silver Arrow after the first-lap contact, Wolff replied: "We guess it was about a second of performance, so it was on points but I can't tell you how many points - but it was substantial floor damage."
Hamilton's second consecutive exercise in damage limitation this year came from yet another sluggish getaway.
In a bid to add further unpredictability to the start, the FIA has further tweaked the procedure this year with drivers only allowed to operate a new single clutch.
Mercedes is receiving help from parent company Daimler but Wolff admits it does not have a timeframe as to when its current woes in that area will be cured.
"We came to believe it was more of a hardware issue than just a control electronics problem and you can't solve it from one race to another so we are working on trying to solve it out and the way the clutch is and the way we run them, the way we calibrate them, and obviously how the drivers use them, needs to be optimised, but mainly the collaboration with Daimler is optimising the hardware and that needs a little bit of time. When we will have results… I'm not sure yet."
Despite the technical niggles, Mercedes already has a 50-point gap ahead of Ferrari in the Constructors' championship.
RACE REPORT: Rosberg beats Raikkonen to win in Bahrain
AS IT HAPPENED: Bahrain Grand Prix
Keep up to date with all the F1 news via Facebook and Twitter