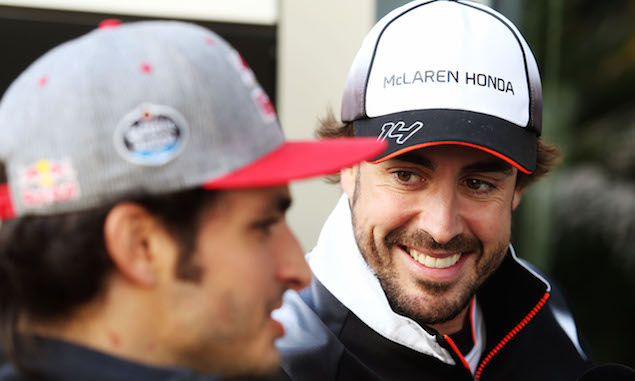 Fernando Alonso believes Formula 1 needs "the big names fighting for the championships" to make it more appealing to fans.
2017 is set to see a change in regulations to increase the speeds of the cars via increased downforce and mechanical grip. With McLaren currently languishing towards the back of the midfield despite two world champion drivers, Alonso believes the biggest names in F1 need to be able to show their worth.
"Well I think we need to wait and see, maybe finalise the rules because there have been some up and downs in terms of confirming the final thing," Alonso said. "I think it is going in the right direction, we need to make the cars faster and the show better.
"We've been remembering for the last week the race in Imola in 2005 with Michael [Schumacher] and me and then in 2006 with the opposite result, both very interesting races. There were three or four overtakes in the whole race and it's considered one of the best shows.
"I don't think that we need to put that much attention on the overtaking and following cars and things like that because before it was as difficult as it is now, or even more, and the races were great.
"We just need the fastest cars to produce a good show, we need to put some noise in the cars, some good battles and the big names fighting for the championships. That will improve the show.
"If in football you put Barcelona-[Real] Madrid for the championship everyone is watching the television. If you put, with all the respects, two small teams that no-one knows the people from those towns will watch the game but no-one else.
"It's what's happening a little bit now, it's not real competition and you have the hands tied sometimes. I can have the best day of my life and have a magic lap on Saturday because God came and I did a fantastic lap but instead of P13 I will be P11 -- no-one will notice that on television.
"It's a very unique sport on that, if someone has a magic night in the NBA and scores 70 points it will be his night. Here, you have a fantastic day or a bad day and it's completely unnoticed."
Romain Grosjean column: Haas brought back down to earth
Chris Medland's 2016 Russian Grand Prix preview
F1 technical - How does ERS deployment work?
Keep up to date with all the F1 news via Facebook and Twitter