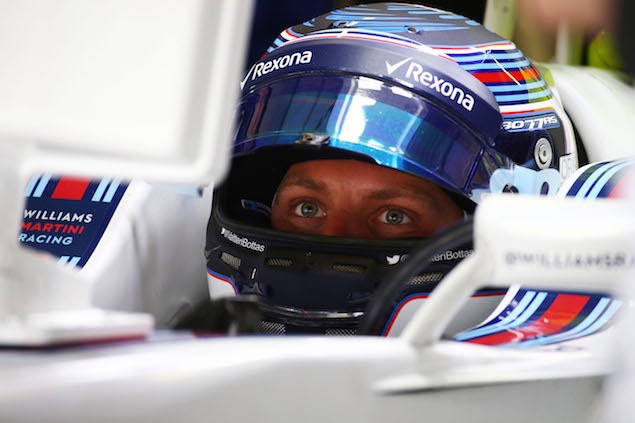 Valtteri Bottas says Williams must be ready to make the most of any slip-up from Ferrari at the Russian Grand Prix, but warns against underestimating the Scuderia following its challenging Friday practice in Sochi.
After a somewhat subdued start to its 2016 season, the British outfit is looking to turn a corner, having brought a series of updates to Russia including an engine evolution.
With 42 laps under his belt, Bottas was the busiest driver in the afternoon session where he and team-mate Felipe Massa displayed strong race pace.
While the Finn thinks Williams is ripe to take advantage of Ferrari's struggles, he also claims the Italian squad remains a force to be reckoned with.
"It looks like we're not that far [to Ferrari], but we shouldn't underestimate them, as they can always be very quick," said Bottas, who posted the sixth quickest time in FP2. "At least it's looking better than in the previous races but Saturday we'll really find out, and on Sunday too.
"We don't mind if the people in front of us are in trouble… It always gives us opportunities and we just have to make sure we are, at least this weekend, the team that will pick up extra points in case something happens."
Although Bottas was encouraged by Williams' speed over longer stints on the supersoft Pirelli compound, the 26-year-old adds that his team must now strive to reach a similar level of performance in qualifying trim.
"It's been a good Friday but it's difficult to say if it has been the best of the season so far. We gathered lots of data but there's still a lot of stuff to analyse for Saturday. We don't fully understand the tyre behaviour in the shorter runs, so there's definitively work to be done."
"It's positive, but there's still a bit of work to do, particularly in the shorter runs and to understand the tyres. It's very difficult here, you know, one time you do a small front wing adjustment in the pits and when you go out you suddenly have massively more grip than in the lap before, so we need to understand why. At least the long run was good,"
REPORT: Hamilton quickest as Vettel hits trouble in FP2
AS IT HAPPENED: Russian Grand Prix - FP2
Silbermann says ... 'Russia OK' shock
Romain Grosjean column: Haas brought back down to earth
Keep up to date with all the F1 news via Facebook and Twitter