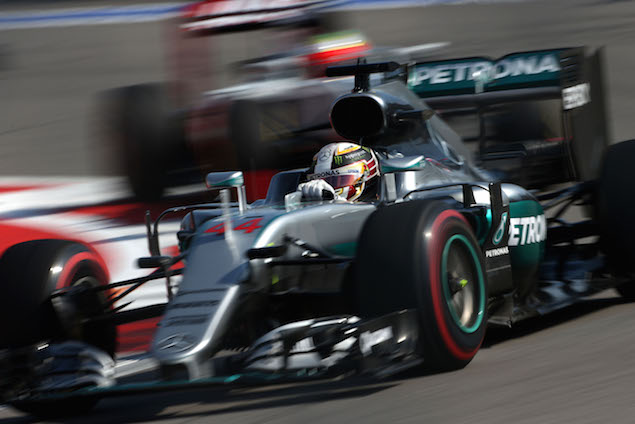 Lewis Hamilton says the series of spins he had in Friday practice for the Russian Grand Prix were due to making mistakes while pushing in "very tricky" track conditions at Sochi Autodrom.
The Mercedes man was not the only driver caught out by low levels of grip around the former Winter Olympic Games venue, but he did seem to be struggling more than most, as he also ran wide and locked up on several occasions.
"Mistakes happen, they just happened," the triple world champion said of his off-track moments. "I'm pushing, that's what happens when you are pushing sometimes."
After trailing team-mate and championship leader Nico Rosberg by over eight tenths in FP1, Hamilton responded with a blistering stint in the afternoon that put him 0.6s clear of second-placed Sebastian Vettel.
"The first one [session] I didn't really get a lap and in this one I did so even with the spins I was still quickest, so I'm happy with the set up changes and the direction we are going but it's tricky out there and these tyres are not very good so I'm sliding around like crazy, there's no grip," the Briton added.
"One lap is OK, it's nearly there and then the next lap it's off. It's very, very tricky, it's a very fine line between being on the perfect line and not. I think it's the tyres magnified here as there is not very much grip, it's like driving on ice out there it's crazy."
Coming off a challenging first three races in 2016, Hamilton is looking to start turning the tables on Rosberg in Sochi, a place where he has been undefeated so far. But despite out-pacing his title rival by nearly nine tenths in FP2, the 31-year-old is quick to downplay the significance of the gap.
"The last session was better at least, but Nico didn't get a lap so I don't know where he is, I'm definitely not getting ahead of myself right now. We made some improvements today, this is a weak circuit for me so hopefully we found something to get a result tomorrow."
"Our goal is to lock out the front row. Pole or second, I don't know which one is really best here because it's such a long run down to Turn 1 so I'll do the best I can. I feel there's an opportunity for us this weekend for sure."
REPORT: Hamilton quickest as Vettel hits trouble in FP2
AS IT HAPPENED: Russian Grand Prix - FP2
Silbermann says ... 'Russia OK' shock
Romain Grosjean column: Haas brought back down to earth
Keep up to date with all the F1 news via Facebook and Twitter