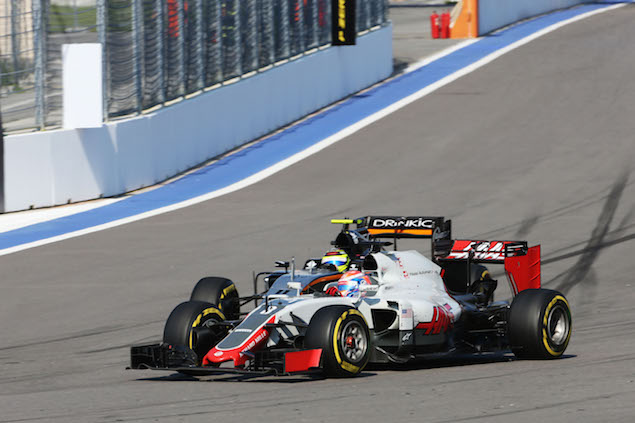 Romain Grosjean says scoring points at the Russian Grand Prix felt "great", especially after he and the Haas F1 Team had been struggling for pace around Sochi Autodrom all weekend.
The Frenchman only lined up 15th on the grid but he was already up to P8 by the time the opening lap melee and early Safety Car period ended. Grosjean managed to keep the position until the end, despite intense pressure from Force India's Sergio Perez in the second half of the race.
"It's great to be back in the points, especially after a very difficult weekend where we were never very happy with the car," Grosjean said. "It was a good first lap to avoid all the incidents, and then I kept Perez behind.
"There are still so many things we can improve on the car. I'm still not a hundred percent happy with the behaviour. I think for the next race it's going to be so much better. It's very positive knowing that we have something that will become better."
While Grosjean picked up Haas' third points finish in four races this year, team-mate Estebian Gutierrez' challenging return to F1 continued in Sochi.
The Mexican was involved in the mayhem at the start and had to serve a 10-second stop-and-go penalty for punting Nico Hulkenberg out of the race, before finishing 17th and second last.
"It was a tough race from the beginning. It was definitely not a nice start," Gutierrez said. "I arrived at the first corner with a lot of space in front and I braked but, unfortunately, I couldn't stop the car and I ran into Nico. It's a shame not only for me but for him, as well.
"I tried to do my best to recover the race but, obviously, we got the penalty and lost a lot of track time. However, I pushed until the end and we managed to finish the race, which was a good thing. We now need to focus on the next race in Barcelona."
REPORT: Rosberg eases to win after Kvyat takes out Vettel
AS IT HAPPENED: 2016 Russian Grand Prix
Breakfast with ... Martin Brundle
Keep up to date with all the F1 news via Facebook and Twitter