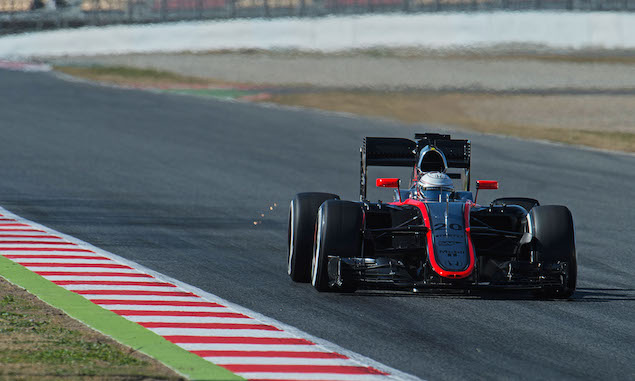 Kevin Magnussen says he was surprised by how good the McLaren MP4-30 felt on his first day in the car on Saturday.
McLaren has been beset by reliability issues throughout pre-season testing, with Jenson Button's 101 laps on Friday by far the most it has managed in one day. Magnussen was driving the car for the first time on the penultimate day of testing and had his running curtailed by an oil leak but he says the car feels a lot further ahead in its development than he had expected.
"It felt good," Magnussen said. "I was quite surprised with the torque delivery and upshifts and stuff like that. There's still a way to go but I was surprised by how smooth it was and the way it worked. Honda is completely new with this type of power unit in Formula One so I was quite surprised how well they've done in that short time they've had.
"We still need the reliability to improve before the first race, which I'm sure it will, but I was pleasantly surprised how smooth it all is."
And Magnussen says Button and Fernando Alonso - who he was driving in place of - have got a stable car to race with despite the limited mileage so far.
"I didn't get any high fuel running, I only went half way. It's hard to say [how it is as a race car]. The first feeling on low fuel and low fuel-ish was very good and very consistent, stable, no surprises. Last year's car was a bit more unpredictable and it's nice to see that the work we did last year and the direction that we wanted to go has definitely proved to be right. It feels right, and that's nice to see."
Full times and day three of the final test as it happened
Click here for the gallery from day three of the final test