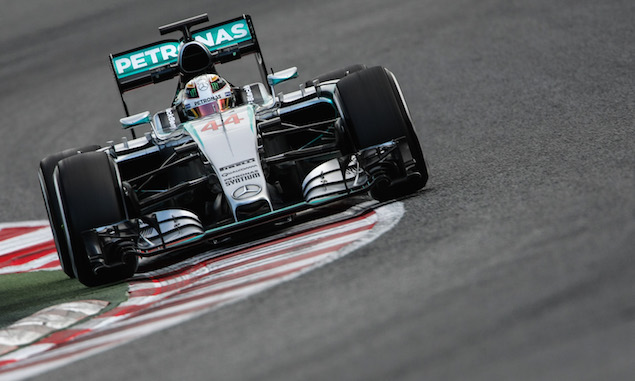 Lewis Hamilton says he struggled with the same problems as team-mate Nico Rosberg during the penultimate day of testing.
Rosberg complained he was unhappy with the balance of the Mercedes during Friday's running, working during the day to try and rectify it before setting a fast time on soft tyres. Having been quickest on day three Hamilton says he had the same problems as Rosberg but ended up 0.3s off his team-mate due to track conditions.
"I put the lap together but the track today was just quite slow compared to the first day," Hamilton said. "I think Nico wasn't comfortable in the car yesterday and it was interesting to see if I would feel the same today, and I did.
"We think it's the tyres and the circuit behaving a little bit differently in these last two days and the track's probably been at least half a second to 0.7s slower than the first day."
With Mercedes going in to the new season as favourites and defending champions, asked if there was a different feeling within the team as a result of last year's dominant success Hamilton replied: "Honestly, no.
"I was actually just thinking in the garage it will be nice to be the first one in the pit lane. I don't remember the last time I had that so that will be quite neat for us. Otherwise it's the same approach. Every year we want to win, it all starts again; it's not 'We've got the crown and we don't want to give it away', it's 'we want to get it'."
And Hamilton also says he has the same approach to the year as the team.
"Every winter is different so it's hard to replicate exactly the same winter every time. So the feeling is always different when you arrive at the test, the feeling fitness-wise is always different. Last winter in testing I don't remember being sick, I was sick this time for example, but all the steps I've generally taken have been to approach the season the same."
Full times and day three of the final test as it happened
Click here for the gallery from day three of the final test