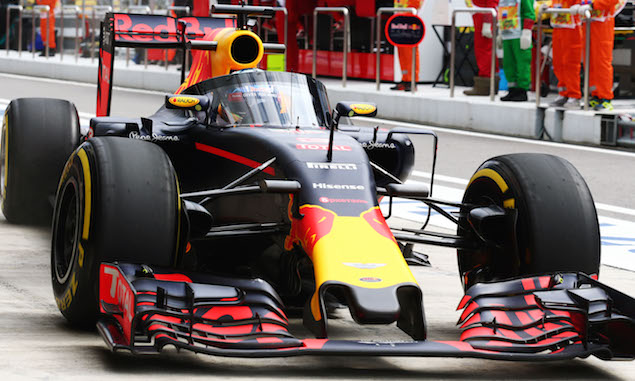 Ron Dennis has backed Red Bull's Aeroscreen concept but believes the cockpit protection device needs further development before it can be introduced in F1.
The FIA is pushing ahead with plans to introduce additional cockpit protection in 2017, with a revised version of the Halo set to be approved following further testing this month. The Halo was chosen over the Aeroscreen - which Red Bull ran on track for the first time in Russia - due to the latter being behind in its development.
McLaren chairman Dennis likes the Red Bull concept but says the screen aspect requires further testing in different conditions to ensure visibility is not negatively impacted.
"You can never make a grand prix car too safe, but possibly the concept of a screen that is resilient enough to withstand real impact is good," Dennis told Sky Sports. "But I think the execution leaves something to be desired at the moment.
"It's a pretty crude shape and with a little more time I think we can make, not only the cars safer, but in that area a little more elegant. And that puts aside the issue of rain and the optical effect of a car going under trees, such as Monza.
"So we shouldn't really introduce it until we're quite sure that visibility and stroboscopic effect that you have with that sort of screen is well understood."
Scene at the 2016 Monaco Grand Prix
Monaco Grand Prix - Quotes of the week
Driver ratings - Monaco Grand Prix
Technical feature: What will the 2017 F1 cars look like?
Keep up to date with all the F1 news via Facebook and Twitter