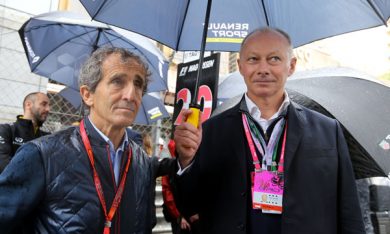 Four-time world champion and Renault Ambassador Alain Prost admitted he has been pleasantly surprised by the gains achieved by Renault's latest spec power unit.
With Max Verstappen winning in Barcelona and Daniel Ricciardo clearly outperforming both Mercedes drivers in qualifying last weekend in Monaco, the days of struggling and acrimonious relations between Red Bull and the French manufacturer are now a thing of the past.
"Yes, I think everyone can be a bit surprised," Prost said, referring to Renault's engine performance bouncing back.
"After two difficult years dealing with the hybrid regulations, Renault has now recovered and the results show this.
"The engineers at Viry have great expertise and it was only a matter of time before they brought the performance back to the highest level."
Prost underlined however the work and progress that still awaits its works Renault squad which trails Red Bull massively in terms of performance and results as its chassis is no match for the competitive RB12.
"The engine is one thing, but the chassis is another. The Renault works team now has to improve its car, and it has the Red Bull chassis as a benchmark.
"This will certainly take some time but Enstone has all it needs and the ressources will be available for the new 2017 regulations.
"There's still a;ot of work to do but it does look promising."
From the cockpit: Felipe Nasr on a controversial Monaco Grand Prix
Scene at the 2016 Monaco Grand Prix
Driver ratings - Monaco Grand Prix
Keep up to date with all the F1 news via Facebook and Twitter