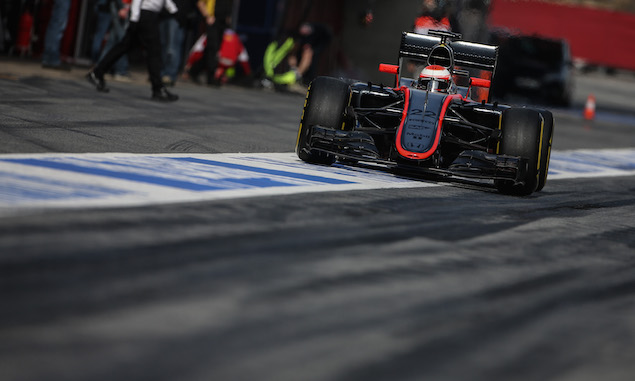 McLaren racing director Eric Boullier says pre-season testing has shown there is "huge potential" in the MP4-30.
Entering a new engine partnership with Honda, McLaren has struggled for mileage and completed a total of 380 laps throughout the 12 days of testing. While Boullier admits McLaren is likely to struggle for the opening races, he says there has been enough running to confirm the car is as good as the team had expected.
"Looking back at the last four weeks, our winter test programme has been difficult," Boullier said. "However, that wasn't entirely unexpected: this time last year, we saw many teams in a similar situation when they introduced new power units for the first time. This year, we also had the added complexity that very tight packaging brings.
"In overview, the lack of mileage means we won't be as ready as we'd have liked, but we can take away the positive that all the running and data gathering we've done have confirmed that we're achieving the targets we set ourselves.
"Even if it's likely to be a difficult start to the season, we know we can develop hard and fast, and that we'll surely unlock the huge potential that lies within the McLaren-Honda MP4-30."
The final day of testing as it happened