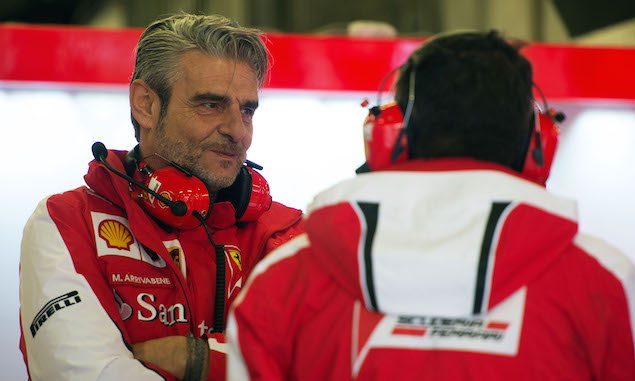 Ferrari team principal Maurizio Arrivabene says the driver line-up of Sebastian Vettel and Kimi Raikkonen is "a perfect combination".
Raikkonen is Ferrari's last drivers' world champion and rejoined the team at the start of 2014 from Lotus, but was comfortably beaten by Fernando Alonso last year. Vettel has moved across from Red Bull to replace Alonso and Arrivabene says the way both Vettel and Raikkonen have worked with the team in pre-season testing highlights what a good partnership the two drivers create.
"They are two different characters, it's quite normal," Arrivabene said. "One is not talking at all! It's partially true, because the people who know Kimi very well, he is talking. He's the kind of person who doesn't really like to talk about stupidity, he likes to talk about serious things.
"Then you discover that he likes art, he's got very good taste and he knows about everything. Or you'll find that after a couple of hours with him he's hugging you and smiling … he's a very good guy and a very good driver.
"Seb is different. Seb is super-professional and sometimes I get impressed and emotional because when I saw him working in the garage it's reminding me of another German guy. I was impressed by his concentration and how he works on details on the car, the way he is taking notes and talking about these notes during the briefing. It's great.
"So we have two different drivers but both of them are really committed … I'm not surprised [Vettel] won four world titles. With the way he's working, it's not a surprise, he's a super person. And concerning Kimi, I want to remind you that after Michael [Schumacher] Kimi was the only world champion with Ferrari. So we have a perfect combination."
Click here for the latest technical upgrades before Melbourne in pictures
Keep up to date with all the F1 news via Facebook and Twitter