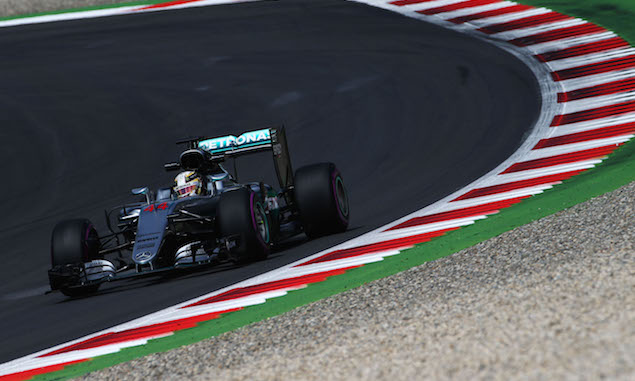 Lewis Hamilton says he is not quick enough around the Red Bull Ring and is not sure he'll find the time to challenge Nico Rosberg in the Austrian Grand Prix.
Rosberg has won the last two races in Austria and was again quickest in both practice sessions on Friday. While Hamilton was only 0.019s off his team-mate in FP2, Rosberg aborted a much quicker lap late in the session which saw him over 0.6s faster with two corners remaining.
Hamilton admits he is not quick around the 4.3km circuit and says the deficit to Rosberg is all in his own driving.
"I definitely haven't been unlucky, I just haven't been quick enough here," Hamilton said. "I was on pole last year and I usually eventually get there but right from the get go I just don't feel great on this track and I don't know why.
"It's just in me and I've just got to out there and find the time in myself. The car is fine ... I know where the time is, but I've not got it.
"The set-up is not that difficult to find at the moment, it's more just getting up to speed. I guess I was on a Sunday drive today and I was not really driving spectacularly like I often do, so I've got to go and find that time tomorrow."
Asked where he needs to improve, Hamilton replied: "Just everywhere.
"The first sector is quite easy, so I'm generally as fast, but the middle sector and final sector I'm pretty slow. I have to try and find my time tomorrow.
"I'm way off. I'm not saying my peak, but I'm way off the pace. Nico was much, much quicker today, so I've got to find that tomorrow. It's not impossible to find that, but we will see.
FP2 REPORT: Rosberg edges Hamilton by 0.019s in rain-hit FP2
AS IT HAPPENED: Austrian Grand Prix - FP2
Silbermann says ... Gin is the only tonic
Exclusive Daniel Ricciardo Q&A: 'I'm also the real deal!'
Keep up to date with all the F1 news via Facebook and Twitter