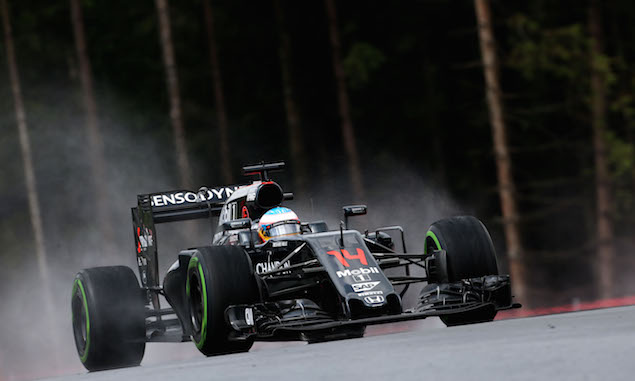 Fernando Alonso is confident McLaren has not shown its true pace during Friday practice for the Austrian Grand Prix.
McLaren has finished 11th in each of the last two races - courtesy of Alonso in Montreal and team-mate Jenson Button in Baku - but is hopeful of being able to fight for points at the Red Bull Ring. Having been 11th quickest in FP2, Alonso says McLaren worked on analysing new parts on Friday and is confident the team will show a step forward in qualifying.
"There's more to come from us because today was just a test day," Alonso said. "There were new parts to try, some worked in a positive way, others didn't work that well, so when we'll put the best parts in the car on Saturday I think we can be quite competitive. I'm quite happy with the way today went, all in all."
And Alonso says the heavy downpour which hit FP2 did not disrupt McLaren's planned running too much.
"We learned less than on a normal Friday because we had less track time, but it was the same for everyone. But we still did quite a few tests, with new aerodynamic parts on top of the normal tyre testing, so now it will be a matter of analysing all the work we did with both cars and choose the best solutions for tomorrow and Sunday.
"In the end we completed the entire program with the exception of the long run with the ultrasoft tyres, because of the time lost to the rain, so tomorrow morning we'll do a few laps with a heavy fuel load – I'm sure other teams will do the same – to learn a bit more."
Alonso even declared himself happy with the rain interruption as he could observe how quickly the track will dry if forecast rain arrives on race day.
"I quite like the new tarmac, because it's very smooth and we didn't feel any bumps. We were able to exploit the grip, which is also quite good. Then we could check how quickly it dried up, after the rain, in half an hour it was ready for slicks, which is very good news, so hopefully we'll see a good race on Sunday."