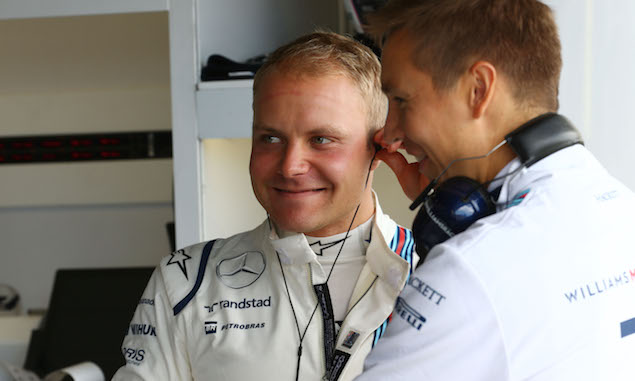 Valtteri Bottas "wants to commit as much as he can" to Williams in 2017, according to his manager Didier Coton.
The Finn is out of contract at the end of the season, with Williams analysing its options at present following three years with the same driver line-up. While the last two years have seen Bottas linked with a move to Ferrari to replace Kimi Raikkonen, the Scuderia has already confirmed Raikkonen will stay in 2017.
With Nico Rosberg expected to agree a new deal at Mercedes, Bottas has limited other options for next season and Coton says the 26-year-old wants to help Williams move further forward under new regulations.
"Valtteri has been very adamant about his commitment towards Williams since the beginning of this season, especially because of the change in the regulations for next year, and the trust he has in them," Coton told Autosport.
"There is a bit of an unfinished story between those two, and he wants to commit as much as he can to the team. He is in F1 to win, the team, of course, has the same objective, and both are working hard to achieve it. Williams is a great team, with a lot of potential.
"They have demonstrated in the past two years what they can do, and there is more to come. And if I look at Valtteri's commitment towards the team, the team should be happy to have him."
Felipe Massa's contract at Williams also expires at the end of this season, with Jenson Button having been linked with a move back to Grove after deputy team principal Claire Williams described the 2009 world champion as "an attractive proposition".
Closing the gap? 2016 constructors points progression
FEATURE: Red Bull Racing: Be My Guest
From the cockpit: Felipe Nasr on the green grass of home
Keep up to date with all the F1 news via Facebook and Twitter