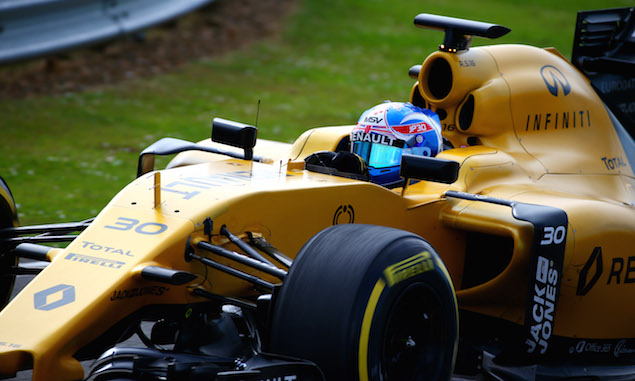 Jolyon Palmer wants to improve his qualifying performances against Renault team-mate Kevin Magnussen amid a close battle between the two.
Magnussen holds the upper hand in the qualifying head-to-head, having outqualified Palmer at eight of the ten races so far this season, with the Dane missing qualifying in Canada after a heavy crash in FP3. The average gap between the two is just 0.2s and Palmer believes he is showing up well against the former McLaren driver but wants to close the gap.
"Obviously he's got a bit more experience than me and he's had a few of seasons working with a top team so he's a good yardstick," Palmer said.
"It's true he's been just ahead of me in qualifying at many races but when you look at the actual lap times it's so very close, we're talking just a tenth or hundredths. Somehow it falls just so very slightly on Kev's side.
"The races are often just as close and we're often fighting for the same piece of track. This shows that we're both generally getting the most out of the car for any given circumstance so this is beneficial for the team.
"I would be lying if I said I didn't want to be the one who's a tenth or so quicker in qualifying; maybe we can make that happen in Budapest."
Palmer has won in Hungary in GP2, but says his first F1 race at the Hungaroring will still be a learning experience.
"Obviously this will be my first Grand Prix there so there's lots to think about. In particular, the circuit has been resurfaced so that's an unknown – it might help us, it might not; we won't know until we get there!
"New track surfaces are always a little bit of a venture into the unknown as you don't know how much grip there will be, how the surface will evolve over the weekend and how the tyres will perform with the surface.
"Of course, a new surface doesn't change the layout or make a significant difference to your approach to a particular circuit but nevertheless it does give an additional focus."
Closing the gap? 2016 constructors points progression
FEATURE: Red Bull Racing: Be My Guest
From the cockpit: Felipe Nasr on the green grass of home
Keep up to date with all the F1 news via Facebook and Twitter