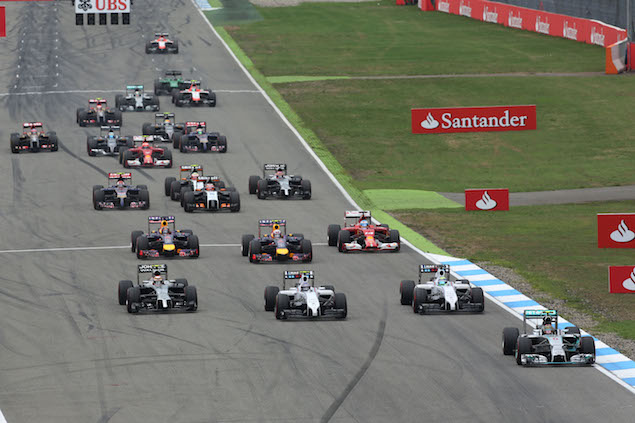 Paul Hembery admits Hockenheim, which hosts this weekend's German Grand Prix, "will be a bit of an unknown quantity" for Pirelli, as Formula One returns to the Baden-Württemberg venue for the first time in two years.
Even if Germany had not dropped off last year's calendar, the official tyre supplier would not have been able to secure valuable information about Hockenheim anyway, since it was the Nürburgring's turn to have the race in 2015.
"Hockenheim will be a bit of an unknown quantity: we've not raced there for two years, and even before then it was a race that alternated with the Nurburgring, so everybody is lacking historical data compared to other venues we visit," Hembery said.
"The most notable feature of the 2014 race was the variable weather: on race day track temperatures were 20 degrees cooler than they had been on the very hot qualifying day.
"With the German Grand Prix taking place at the same time of year again, there is obviously the potential for similar variation."
Under this year's new tyre regulations, which sees Pirelli nominate three compounds instead of two previously, the Italian manufacturer has selected the medium, soft, and supersoft tyre for this weekend, with one set of mediums and one set of softs required to be kept back for the race. Two years ago, Pirelli went for the soft and supersoft rubber.
"The cars are obviously going a lot quicker than they were in 2014, which is why we have introduced a tyre nomination that is a step harder compared to last time," Hembery explained.
Most drivers have elected to select only one set of mediums for this weekend though, with Force India's Sergio Perez and Nico Hulkenberg the only exceptions with three sets of the white-marked compound apiece.
Scene at the 2016 Hungarian Grand Prix
Hungarian Grand Prix - Quotes of the week
DRIVER RATINGS: Hungarian Grand Prix
Keep up to date with all the F1 news via Facebook and Twitter