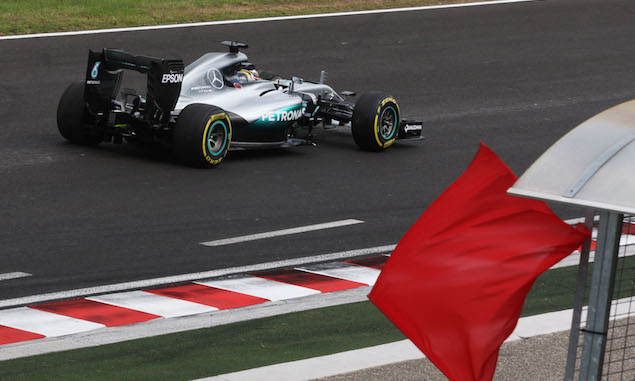 The FIA plans to use red flags more often in qualifying in place of double waved yellows in order to slow all drivers immediately.
Following Nico Rosberg's pole position lap which was set under double waved yellows in Hungary last weekend, a number of drivers have asked for clarity on what constitutes slowing enough in such a scenario. FIA race director Charlie Whiting has now confirmed it is more likely to use a red flag in qualifying to remove any further debate.
"Ever since we had the Virtual Safety Car in 2015 and then this year we use it in free practice – well, we can use it in qualifying really but we tend now to stop if there is going to be a yellow flag for any length of time," Whiting said.
"The reason we didn't show a red flag in Hungary was simply that session had ended but some cars were behind Alonso's car and some in front, so I think the procedure would be to red flag any time there is a double waved yellow flag. Then there will be no discussion."
Asked if he would have brought out the red flag due to the Alonso incident under the new regulations, Whiting replied: "That's what I intend to do in the future, yes.
"Just to remove any discussion about whether a driver slowed down or not. I think you would have noticed that most drivers decided to call it a day; they stopped their attempt at qualifying. But in Nico's defence, he had only one yellow sector to go through and that was a short one, whereas the other drivers had two yellow sectors to go through, so there is a difference.
"But I just don't want to get into these discussions where you need to try and decide whether a driver has slowed down enough and if you applied the double-waved yellow flag rule absolutely to the letter, it says you must be prepared to stop and I think that is a difficulty one to call really and if we just say 'red flag'… it's a little unfair to those who are in front of Fernando and were trying to complete a lap, but that's what happens when a red flag goes out anytime.
"I don't know if any of you saw but Pascal Wehrlein was caught out by the third red flag in Q1. He was about to set a time but the red flag came out less than a second before he crossed the line, but his time didn't count and that's what happens unfortunately when a red flag is shown."
The new interpretation of the situation will be used with immediate effect from this weekend's German Grand Prix onwards.
LIVE: German Grand Prix weekend
Exclusive Alex Wurz Q&A: GPDA chairman "surprised" by Halo delay
Chris Medland's 2016 German Grand Prix preview
FEATURE: Halo: splitting opinion in F1
Keep up to date with all the F1 news via Facebook and Twitter