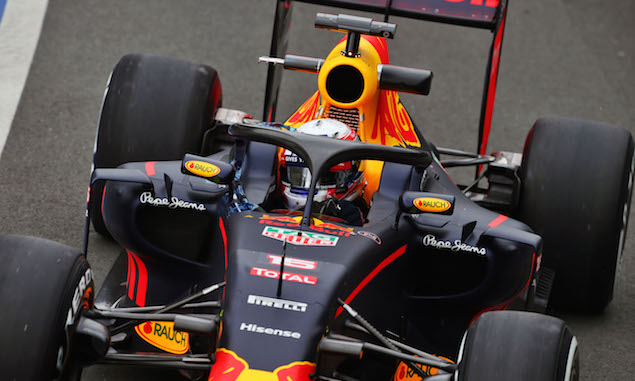 The FIA wants all drivers to carry out at least one practice session with the Halo on their car before the end of this season.
It was agreed on Thursday during a Strategy Group meeting in Geneva to defer the introduction of the Halo until 2018, with teams voicing concerns about driver visibility. FIA safety delegate Charlie Whiting explained the reasoning behind the delay and says he wants all drivers to try the device for a full practice session this year.
"The FIA has decided that the Halo is the future as has been stated in the past," Whiting said. "The first step was yesterday to take it to the Strategy Group, so that is exactly what we did.
"The decision was taken, as I believe you know, that simply because only three drivers have ever tried it, and they have only done a total of four laps, this was something that everyone felt was quite a relevant thing and it wouldn't really be feasible in the short term to get the relevant number of laps with the Halo. That was the reason for introducing if for 2018 instead of 2017."
When asked why there wasn't more testing during the 11 grands prix to have taken place so far in 2016, Whiting replied: "This is something that we had to leave to the teams because we couldn't at that point feel as though we could actually insist upon trying to put it on one of the current cars.
"But there are also problems, if you talk to anybody from Red Bull for example they say they can't run Halo for more than two laps before the air intakes for the cooling of the engine and cooling of the gearbox start to be affected.
"What we are looking to do is make it clear that every driver has to try it for a whole free practice session during the course of this year. That would give us a proper way of going forward so we don't get caught out by something that is very hard to change back. That's really the idea."
Such a plan would see the Halo tested on circuits such as Spa-Francorchamps - which features major undulations - and under lights in Singapore and Abu Dhabi.
"We asked the teams yesterday all to look at the possibilities of running a car in Spa and Monza but that was before the decision was taken to defer it until 2018. But now I think we should look towards a structured plan where all teams can run it at some point during the season at all tracks. But my aim would be to get every driver to try it.
"It will be a standard version of the Halo. A standard shape, of course, but dummy versions. They wouldn't be actual production Halos. They've all got the drawings, they all know exactly how big they have to be and where they have to mount, but they could make what is effectively a dummy one."
LIVE: German Grand Prix weekend
Exclusive Alex Wurz Q&A: GPDA chairman "surprised" by Halo delay
Chris Medland's 2016 German Grand Prix preview
FEATURE: Halo: splitting opinion in F1
Keep up to date with all the F1 news via Facebook and Twitter