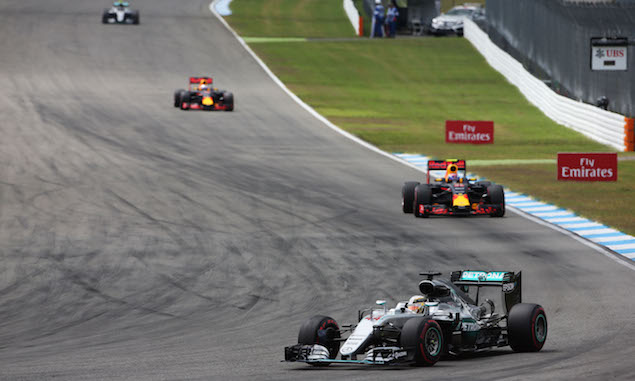 Lewis Hamilton took a comfortable German Grand Prix victory ahead of the two Red Bulls to extend his championship lead.
The triple world champion took the lead at the start as Nico Rosberg dropped to fourth place, and was never troubled despite strong pace from Daniel Ricciardo and Max Verstappen behind.
Rosberg's attempts to recover were hampered by a five-second time penalty handed out for forcing Verstappen off-track after his second pit stop, and he came home fourth to drop a 19 points behind his team-mate in the championship standings.
Red Bull's result was a significant one as not only did it show the pace to keep Rosberg at bay, it moved ahead of Ferrari into second in the constructors' championship. Sebastian Vettel and Kimi Raikkonen came home fifth and sixth respectively after lonely races, both comfortably quicker than those behind but unable to match the pace at the front.
Nico Hulkenberg took seventh place for Force India in what was also a significant result, with Valtteri Bottas suffering a complete loss of pace on old tyres late on to finish behind Jenson Button but just ahead of tenth-placed Sergio Perez.
As is often the case between the Mercedes drivers, the start was crucial and it proved extremely costly for pole-sitter Rosberg. The German appeared to get a good initial getaway but was wheelspinning in third gear as he lost ground during the second phase of the start and entered Turn 1 behind Hamilton, Verstappen and Ricciardo.
Verstappen pulled a strong move around the outside of his team-mate at the first corner and tried to keep Hamilton honest in the first stint, but the championship leader showed his potential with a long opening stint which saw him able to match Verstappen's pace on old supersoft tyres even with the 18-year-old on fresh rubber.
Rosberg needed to recover and struggled to pass Verstappen before his first stop, with both Mercedes and Red Bull opting to split strategies. Ricciardo - on softs - could match the pace of Verstappen and Rosberg who were on the supersofts.
When those tyre compounds were switched at the second stops, Rosberg came out close behind Verstappen and dived down the inside at the Turn 6 hairpin. With Verstappen jinking to the right to try and worry Rosberg, the Mercedes driver ran right to the edge of the track, pushing the Red Bull off the circuit. The incident earned Rosberg a five-second time penalty to take at his final stop.
Ricciardo had impressive pace on supersofts and was allowed passed by Verstappen to chase Rosberg, with the Mercedes pitting from right in front of him. Rosberg was stationary for eight seconds before work started on his car - three seconds longer than required - and he came out too far adrift of the Red Bulls to challenge and had to settle for fourth.
With Hamilton cruising on the softs, Ricciardo started to reel the Mercedes in but once he got within six seconds, Hamilton responded and traffic prevented much further progress. Ricciardo crossed the line 6.9s adrift of Hamilton to take his second podium in a row, while it was also Red Bull's first double-podium since Hungary 2015.
Williams was left with a race to forget as Felipe Massa was hit by Jolyon Palmer at the hairpin on the opening lap. Massa struggled for pace from then on and after a lengthy pit stop failed to disclose any obvious damage, the team retired the car.
Bottas appeared set to salvage points which would keep Force India at bay but attempted to two-stop compared to all the cars ahead of him stopping three times. With a long final stint on soft tyres, Bottas struggled massively in the final five laps and saw Hulkenberg pass him at Turn 9 before Button jumped him for ninth place.
Perez nearly got Bottas on the final lap as he took five seconds out of the Williams, with the end result seeing Force India score seven points compared to just two for Williams, closing the gap in the battle for fourth in the constructors' to 15 points.
Fernando Alonso also suffered from high tyre degradation in the closing laps and slipped back to 12th having been 10th late on, with Esteban Gutierrez again crossing the line one place outside the points after attempting a two-stop strategy.
Heading into the summer break, Red Bull is now 14 points ahead of Ferrari in the constructors' standings, with Mercedes enjoying a lead of 159 points at the top.
Keep up to date with all the F1 news via Facebook and Twitter
| Pos | Driver | Team | Gap | Stops |
| --- | --- | --- | --- | --- |
| 01 | Lewis Hamilton | Mercedes | 67 laps - 1h30m44.200s | 3 |
| 02 | Daniel Ricciardo | Red Bull | +6.996 | 3 |
| 03 | Max Verstappen | Red Bull | +13.413 | 3 |
| 04 | Nico Rosberg | Mercedes | +15.845 | 3 |
| 05 | Sebastian Vettel | Ferrari | +32.570 | 3 |
| 06 | Kimi Raikkonen | Ferrari | +37.023 | 3 |
| 07 | Nico Hulkenberg | Force India | +70.049 | 3 |
| 08 | Jenson Button | McLaren | +1 lap | 3 |
| 09 | Valtteri Bottas | Williams | +1 lap | 2 |
| 10 | Sergio Perez | Force India | +1 lap | 3 |
| 11 | Esteban Gutierrez | Haas | +1 lap | 3 |
| 12 | Fernando Alonso | McLaren | +1 lap | 2 |
| 13 | Romain Grosjean | Haas | +1 lap | 2 |
| 14 | Carlos Sainz | Toro Rosso | +1 lap | 3 |
| 15 | Daniil Kvyat | Toro Rosso | +1 lap | 3 |
| 16 | Kevin Magnussen | Renault | +1 lap | 2 |
| 17 | Pascal Wehrlein | Manor | +2 laps | 3 |
| 18 | Marcus Ericsson | Sauber | +2 laps | 2 |
| 19 | Jolyon Palmer | Renault | +2 laps | 3 |
| 20 | Rio Haryanto | Manor | +2 laps | 3 |
| 21 | Felipe Nasr | Sauber | DNF | 4 |
| 22 | Felipe Massa | Williams | DNF | 3 |
LIVE: German Grand Prix weekend
Silbermann says ... Backing the wrong horse
Exclusive Alex Wurz Q&A: GPDA chairman "surprised" by Halo delay
Keep up to date with all the F1 news via Facebook and Twitter