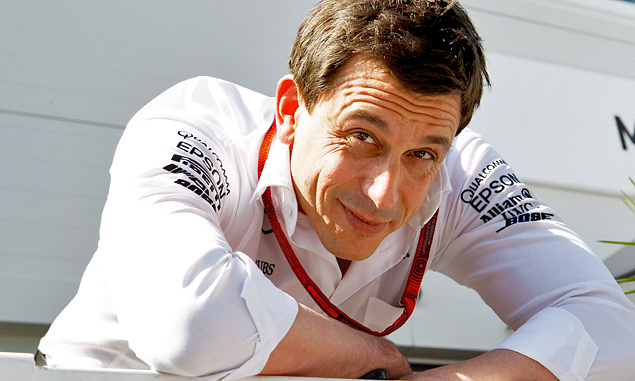 Mercedes boss Toto Wolff has reiterated that there is absolutely no excuse for any further contact between the two Mercedes cars during forthcoming Grand Prix races, after the costly collision between Nico Rosberg and Lewis Hamilton that eliminated both drivers on the first lap of the Spanish Grand Prix.
Wolff's insistence on no more on-track spats between the pair comes despite the fact the the increasingly bitter feud between his two drivers has actually been good for Formula One world wide in terms of publicity.
"After all these years we have accepted that driver rivalry can create painful friction," Wolff told the official Formula One website at the weekend.
"It also creates headlines. Nevertheless we are responsible for delivering results, and results are what really count.
"Scoring points is what gets you championships, not front pages full of crashed cars Therefore contact between the cars is unacceptable. Period!
"If they make contact again in such a way that we deem one or both drivers being responsible for it - throwing away the work of 1,500 people and risking the reputation of a big brand - then we will take action and both drivers know it.
"We have always said we need to consider whether the line-up is sustainable long-term if that keeps on happening, if we can keep riding this wild horse - and we haven't changed our opinion."
Formula One fans have traditionally chaffed when one team or a single driver gets into a dominant position for an extended period, and Bernie Ecclestone pointed out recently that the rivalry between Hamilton and Rosberg had actually helped Mercedes maintain its popularity.
"I am sure he still has fond memories of Barcelona," chuckled Wolff when reminded of Ecclestone's comments. "And indeed, it was a good one. It was the complete wipe-out of both Mercedes cars and provided ground for the next generation superstar: Max Verstappen.
"Putting our pain aside, you could say that it was a good weekend for Formula One," he agreed, even though it had clearly been a painful and embarrassing one for Mercedes itself and one that Wolff has no desire to see repeated again this season.
Nicolas Carpentiers' technical review of the first half of the 2016
Chris Amon: A legend's career in pictures
Silbermann says ... Beer can save F1's future
Breakfast with ... Christian Danner
Keep up to date with all the F1 news via Facebook and Twitter