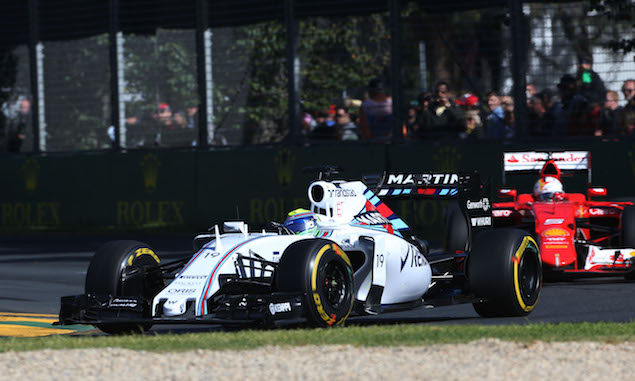 Felipe Massa says it is important Williams receives the same engine as Mercedes after being surprised by the gap in the Australian Grand Prix.
Having started from third place, Massa was powerless to chase Lewis Hamilton and Nico Rosberg as they eased away at the front of the field. Williams was eventually beaten to third place by Sebastian Vettel's Ferrari and Massa - who was the only Williams in the race due to Valtteri Bottas' injury - believes the gap enjoyed by Mercedes shows it has a different specification of engine to its customers.
"For sure it was a shame not to have both cars today in the race but I really think it was important to start the season scoring good points," Massa said. "I'm sure we're going to be in good shape at the next races as well, so we're pushing hard with the car to improve the car.
"We're pushing hard with the engine which I'm sure has some improvements that we can have and are pushing to have, because for sure the difference is too big. So I really hope that we really have the same engine, which I really don't see why we don't have.
"Why would Mercedes help Ferrari? So we need to have the best they can give, and we will work on that. On the car we know that every race and whatever points you're not getting, it counts.
"If we don't have the same engine - which I cannot say 100% because it's very difficult to say - but if we don't have it then we want to have it because it's not nice that we don't have it."
Click here for the full gallery from the Australian Grand Prix
Keep up to date with all the F1 news via Facebook and Twitter