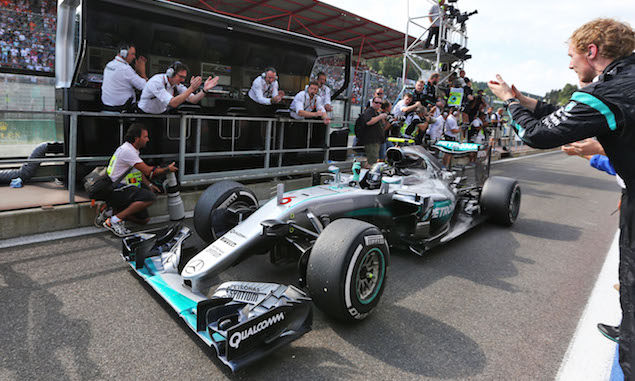 Nico Rosberg admits he was surprised to see team-mate Lewis Hamilton recover  as high as third place in the Belgian Grand Prix.
Hamilton started from 21st on the grid as a result of power unit penalties, with Toto Wolff expecting a difficult race for the championship leader as Mercedes had struggled with its tyres throughout the weekend. However, a chaotic opening lap and fortunate red flag period helped promote Hamilton to fifth after the opening ten laps, with the triple world champion going on to finish third.
Asked if he was surprised Hamilton was as high as fifth when the race was restarted on lap 10, race-winner Rosberg admits the final result I surprised him.
"[P5 after the red flag] I didn't see," Rosberg said. "I just saw the result at the end and I saw that Daniel was behind me and HAM was in P3 and I was like 'What?! Seriously?' But I didn't know until after the race where he was."
Despite his surprise, Rosberg insists he does not feel disappointed that he is leaving Belgium having only taken ten points out of Hamilton's championship lead.
"That's not what I'm focusing on. I came to the Belgium Grand Prix wanting to win it and the opposition was unusually close this weekend. Not eventually in the race, but up until then they were very close, but it worked out with a perfect weekend for me and Lewis did a great job to finish third."
Hamilton's 60-place grid penalty was mainly a result of taking three new power units, leaving him with more available than Rosberg is due to have this season, but the German does not see it as an advantage for his team-mate.
"I don't think about it in that way, but I'm aware of it yes. But he had the big disadvantage today, so I don't think about it in that way and I'm just focusing on my thing and that's it. I don't think it will make a big difference after this."
RACE REPORT: Rosberg wins at Spa as Hamilton recovers to third
Breakfast with ... Otmar Szafnauer
Silbermann says ... Spa too hot
Keep up to date with all the F1 news via Facebook and Twitter