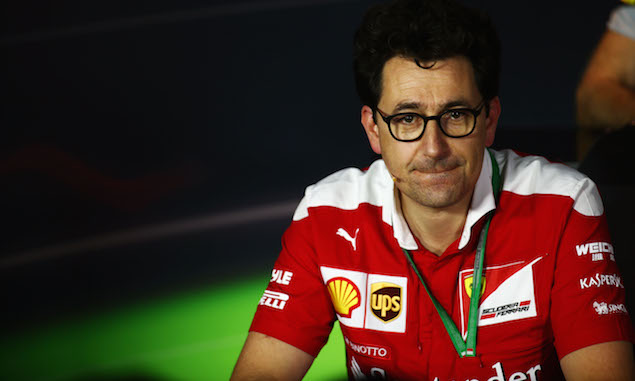 Ferrari chief technical officer Mattia Binotto says the fact the team has spent all of its power unit tokens highlights its pace of development.
Power unit manufacturers each have 32 development tokens to use this season in updating their engine, with Ferrari becoming the first to spend its final tokens ahead of this weekend's Italian Grand Prix at Monza. Binotto - who replaced James Allison having previously been chief operating officer, power unit - says the latest upgrade shows how hard Ferrari has been pushing.
"It will be difficult to judge and I think we will discover it in qualifying," Binotto said when asked what he hopes the upgrade will deliver. "No doubt that we are continuously developing and by developing the power unit for the regulations we are spending tokens.
"The fact we are spending our last means that somehow we spent whatever was possible this season, which means a continuous development, higher rate possibly. I think it's really too early to see what will be the benefit.
"We know what's the value; let's see what the others have done. I know Mercedes spent five tokens in Belgium so no doubt they will have an advantage as well."
And Binotto says the performance gap between engine manufacturers is definitely closing after nearly three years with the current power unit regulations.
"Performance-wise, manufacturers are converging. I think that when you're at a certain stage of convergence it becomes even difficult to split the affect from powertrain to chassis and aero. I think that it means so far, at the moment, we are really close and the difference is not any more as it was in the past.
"In Monza how much it may do ... in Monza the horsepower difference is the equivalent of three-tenths per lap. Maybe that can still the difference between various manufacturers."
REPORT: Hamilton fastest as Ferrari closes gap in FP2
Silbermann says ... Mad about Max, Monza and Massa
Claire Williams on Felipe Massa and 2017 driver plans
Romain Grosjean column: Speed, sponsors and scheduling
Keep up to date with all the F1 news via Facebook and Twitter