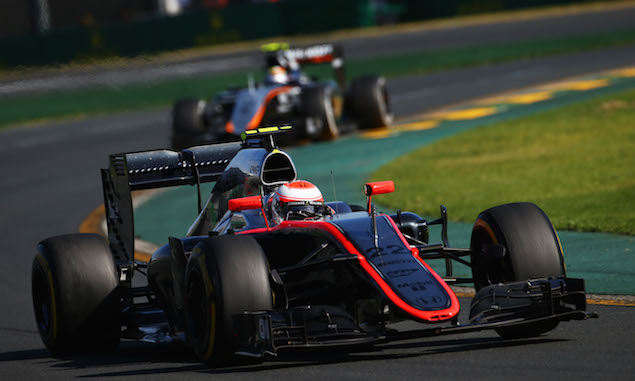 Sebastian Vettel says Honda has been "very brave" in entering F1 a year after new regulations were introduced but expects the engine manufacturer to succeed.
Honda is only supplying McLaren with its new power unit in 2015, and a number of problems disrupted its pre-season testing schedule before the car ran comfortably off the pace in Australia. With Kevin Magnussen failing to even start the race after an engine problem - and Daniil Kvyat also stopping on the way to the grid - Vettel says the reliability issues are not good for the sport but also highlight what a good job teams are doing to run consistently with the current technology.
"Obviously it was strange to see people struggling to do the laps to the grid but I think it's difficult," Vettel said. "I think it shows how complex it really is, how difficult it is to master the challenge of making the car reliable for a grand prix and for the entire season so that's why you really have to say chapeau to [Mercedes] and everyone who is able to extract clean races.
"But also it's great to see that this year we have a new competitor in the game with Honda. I think they have been very brave to face that challenge, even though now the price they're paying is very high, but I'm sure they will come back.
"I think everyone has, more or less, been through that process with the exception of [Mercedes] last year, so it seems to be part of the game but for sure it's not great for the people. They want to see the cars and if the cars break before even starting the race that's not right but what can I say? It's a difficult challenge, it is complicated, maybe got a bit too complicated but for now it is what it is."
Click here to learn about a key Mercedes power unit change in 2015
Keep up to date with all the F1 news via Facebook and Twitter