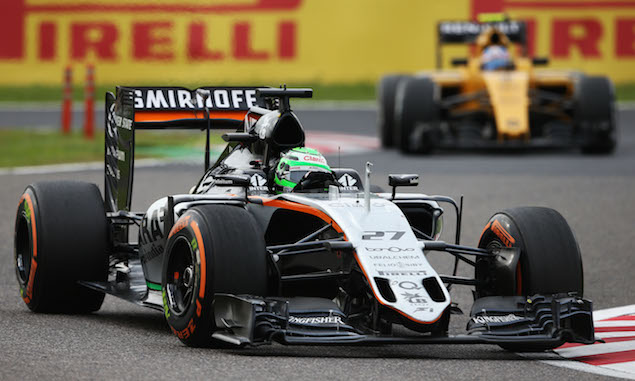 Force India deputy team principal Bob Fernley says Nico Hulkenberg has yet to inform the team of any interest in him from Renault.
Hulkenberg has emerged as a target as Renault looks to finalise its 2017 driver line-up, with the French manufacturer keen to bring in an experienced driver to lead its rebuilding phase over the coming seasons. While Hulkenberg is currently under contract at Force India, it is understood he could still move but Fernley told F1i there has been no approach from either the driver or Renault at this stage.
"I think we should be flattered!" Fernley said. "From what we can see from Renault they are targeting everything at Force India, staff, everything!
"As of this point there have been no approaches whatsoever and we have no indication whatsoever whether anything has been offered to Nico. So it's business as usual, as of today Nico is with us next year."
When asked if Renault would need to approach Force India, Fernley suggested that team would not stand in Hulkenberg's way should he want to leave.
"Or Nico would. I don't think it would be necessarily Renault coming in. I think it would be Nico coming to us and at this point there have been no approaches so far."
Sergio Perez was previously a target for Renault next season but opted to remain at Force India, confirming a one-year extension to his contract had been agreed during the Malaysian Grand Prix weekend.
DRIVER RATINGS: Japanese Grand Prix
REPORT: Rosberg wins in Japan as Hamilton fights back to third
Breakfast with ... Tetsuo Tsugawa
FEATURE: Silbermann says... Snapchat and soap in Suzuka
Keep up to date with all the F1 news via Facebook and Twitter