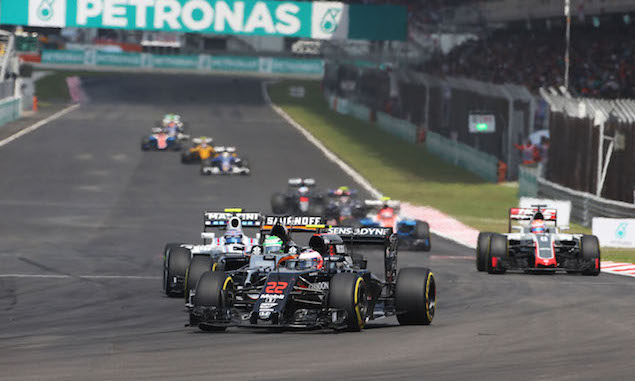 Jenson Button says drivers moving under braking has only become a problem in the last few years and praised the FIA for clarifying what is not acceptable.
The issue has been raised by a number of drivers in response to Max Verstappen's defensive driving, with Mercedes lodging a protest at the Japanese Grand Prix which it later retracted. Following a lengthy driver briefing on Friday the FIA clarified moving under braking will not be tolerated and Button believes it needed addressing after becoming a problem in recent seasons.
"I think this is the correct ruling," Button said. "To be fair we started a long time ago in this sport and I think there's always been a good understanding that it's incorrect to move in the braking zone when somebody is trying to overtake, because when you're trying to overtake everything is on the limit.
"You are on the limit, you're pushing the boundaries, you're on the edge of being out of control - which is always a good quote - but as soon somebody moves in front of you and takes the line that you were aiming for, the space that you were aiming for, you're screwed. You're either going to go over the top of them or you're going to miss them and end up in the barriers.
"So it's common sense more than anything else. For 15 years of racing we haven't really had any issues, it's just the last couple of years we have. So now it's clear, they've clarified it and I'm happy about that."
Team-mate Fernando Alonso added the clarification does not change anything from his point of view, but suggested he wants the stewards to be more strict with defensive driving.
"Yeah, there's not really much to comment," Alonso said. "It was clear before and it is clear now.
"In football when you hit the ball with the hand inside the area it's a penalty, and sometimes the referee gives you the penalty and sometimes not. This was clear before and sometimes they give a penalty and sometimes they don't give anything."
Silbermann says ... Taylor should take over F1
Romain Grosjean column: 100 races, now for the wins
PREVIEW: 2016 United States Grand Prix
TECHNICAL - Turbulent Jet Ignition: In the antechamber of F1 power
Keep up to date with all the F1 news via Facebook and Twitter