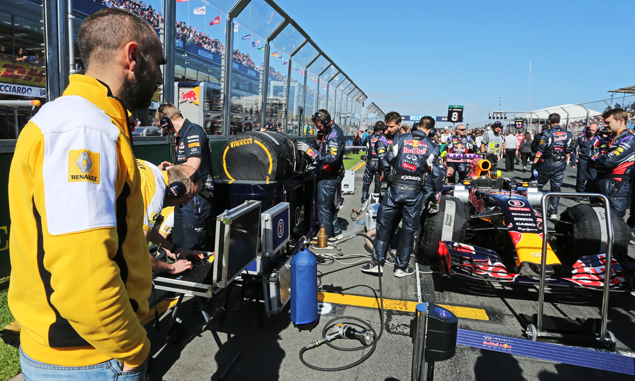 Renault Sport F1 chief Cyril Abiteboul has emphatically rebutted Adrian Newey's claims that the French power unit was the only element hampering Red Bull's progress.
The Milton Keynes-based team and its engine supplier have endured a tough start to the season with the lead RB11 of Daniel Ricciardo finishing a lapped sixth in Melbourne's season opener.
Red Bull team principal Christian Horner was quick to slam the team's power unit for being undriveable and 100bhp down to Mercedes.
Furthermore, chief technical officer Newey said the RB11's current lack of competitiveness boiled down to its Renault Energy F1.
Asked by French publication Auto Hebdo whether it was hard to hear these comments, Abiteboul replied: "Yes, it's tough to have a partner who lies. Adrian is a charming man and an elite engineer, but he's spent his life blaming engine partners. He's too old to change."
In his latest Renault Sport F1 preview, the French managing director also claims that Melbourne's performance gap fell equally on the engine and the chassis, and calls for more cooperation between both partners.
"We need to work together to understand our issues, both within the power unit and the chassis. Our figures have shown that the lap time deficit between Red Bull and Mercedes in Melbourne was equally split between driveability issues, engine performance and chassis performance. It's therefore the overall package that needs some help and we have been working with the team to move forward.
"We've been particularly aggressive in development and we should see the results a lot more clearly in Malaysia, particularly since we have had the opportunity to refine the PU using the data from Australia. Work is still ongoing but even now we are in a completely different place to where we finished Melbourne."
Click here for the full gallery of the 2015 F1 drivers helmets
Keep up to date with all the F1 news via Facebook and Twitter