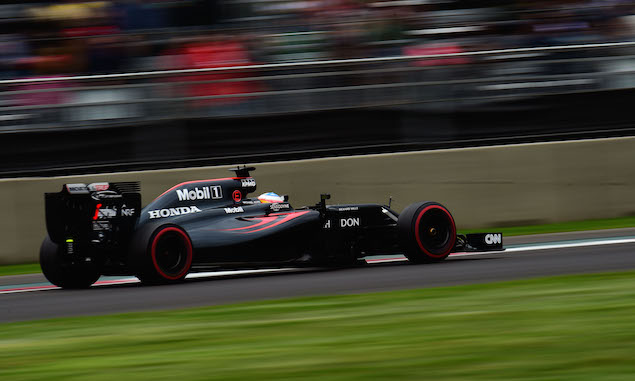 Fernando Alonso says Sebastian Vettel has to be fogiven for calling him an 'idiot' in Friday practice for the Mexican Grand Prix, given the "very frustrating" period he is living at Ferrari at the moment.
Vettel grew annoyed with traffic in FP2 and at some point was forced to run wide at Turn 12 to avoid the slower McLaren-Honda of Alonso ahead of him.
The German was clearly not impressed with his fellow world champion, branding him an "idiot" over the Scuderia's team radio.
Having preceded Vettel at Ferrari, Alonso came tantalisingly close to winning a third title with the Maranello-based outfit on several occasions, but never had the best equipment in the field to finish the job from 2010-14.
The Spaniard is thus well placed to understand what his successor must feel like after he and the Italian team have failed to build on their promising results from 2015.
"I heard what Vettel said on the radio but I don't make an issue out of it," Alonso said. "He's living a very frustrating period, for himself and for Ferrari, so we have to forgive him."
Despite recovering to P10 in FP2, Alonso, who was only 16th fastest in the morning session, admits making it into the final of phase of Saturday's qualifying will be hard for McLaren-Honda at the Autódromo Hermanos Rodríguez.
"It was a difficult Friday for everybody because the tarmac lacks grip like last year. In FP1 there was a lot of dust, we tried a few things in the car and then, in FP2, we tried the tyres for the race – Softs and Super Softs – but we had to cut our run short as a precaution as there was something with the brake system and that had to be checked.
"We'll try to find a bit more pace, working on performance after doing a lot of different tests.
"I'm with the old engine, I don't have the latest version on my car, so to get into Q3 would be a surprise. We'll try our best but it won't be easy to get into Q3."
Chris Medland's 2016 Mexican Grand Prix preview
Scene at the United States Grand Prix
Keep up to date with all the F1 news via Facebook and Twitter