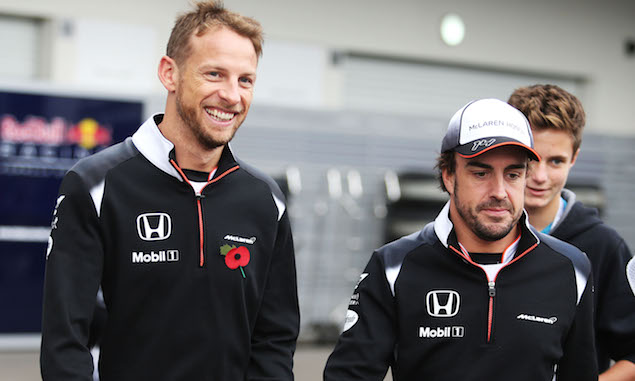 Mclaren-Honda star Fernando Alonso thinks Formula One drivers' skills do not wane as they grow older, and says that careers usually end due to the growing weariness with the constant spotlight the sport brings.
Once the youngest world champion in F1 history, the 35-year-old Spaniard is now one of the elder statesmen on the current grid with 271 starts in 15 seasons under his belt.
Alonso, who will see his experienced team-mate Jenson Button take a sabbatical in 2017, dismisses the idea that age translates into losing a step on track.
"I don't see it like other sports that maybe the physical situation is so relevant," he told F1i's Chris Medland during an exclusive interview. "Here it is just about the machine, about the car, so I don't think there is a peak and then you go down. Here is just a normal progression line and you get better every time.
"If you stop one day I don't think it's because you're slower, it's because you're tired. Tired of travelling, of media, when you expose your life for 20 years - you've been in the newspaper for 20 years, you've been on television for 20 years - maybe you want to stop that because real life is on the other side of that box.
"So you stop because of that, not because you are four tenths, three tenths or half a second slower than 20 years ago."
Alonso adds that "the temptation to have a normal life will arrive" even if you are enjoying success.
"We saw with Michael [Schumacher] he was 37 when he first retired and he was winning, he was fighting for the world championship until the last race with me in 2006 and decided to retire. It's because you start at 19 or 20 in Formula One and at 37 then 17 years of your life are totally dedicated to the sport.
"There's not a single day when you don't do breakfast thinking about what you're eating. There's not a single day when you do something not thinking that you don't want to be hurt because the race is next weekend. So it's all your life dedicated to the sport."
INTERVIEW: Fernando Alonso: Why F1 is no longer just for heroes
F1i Classic: Brazil 1991 - Senna's pain and glory
FEATURE: Foul Play or Foul Language
Scene at the 2016 Mexican Grand Prix
Keep up to date with all the F1 news via Facebook and Twitter