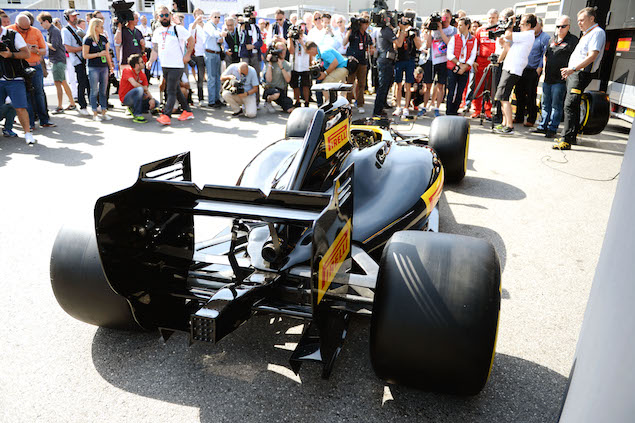 Renault team principal Frédéric Vasseur says the 2017-spec Pirelli tyres will have an impact on how Formula One teams carry out their pit stops.
Next season will see wider tyres introduced, with the dimensions increasing from 245mm to 305mm at the front and from 325mm to 405mm at the rear. Talking ahead of this weekend's Brazilian Grand Prix, Vasseur explains how F1 crews prepare and adjust for the changes.
"It's true that it will require a bit of a different set-up!" the Frenchman said. "The crew will certainly have to focus their training in this area as the tyres will be heavier and we'll also need different equipment ranging from racks to tyre blankets.
"We will need to conduct a lot of pit stop practice – as we always do – as the rear tyres are significantly wider as well as heavier. It's going to take some time to adapt, but that is always part of the challenge of Formula 1. We'll pay a considerable amount of attention to this before the first race of 2017."
Wider tyres are only part of the sweeping regulation changes slated for next season, which also include radical bodywork changes to make the cars faster and more aggressive-looking.
As Renault prepares to unveil its first in-house challenger since returning to F1 as a fully-fledged constructor, Vasseur confirms that Renault's factories in Viry (engine) and Enstone (chassis) are abuzz with activity.
"2017 is a big challenge: we have a new technical challenge with the changed regulations and it will be the first car we produce under our new regime. There is a real excitement about the new car and the factory has some very busy months ahead producing it.
"There is a big unknown for next year as everyone is creating their new cars in isolation and we won't know how we compare until we hit the track at the first test in Barcelona.
"That is part of the excitement in this industry. We can't wait to be out on track for the first day of testing to get a feel of where we are at. But, until then, we have the two final races of 2016 and, rest assured, we'll push all the way on track in Brazil and Abu Dhabi."
F1i Classic: Brazil 1991 - Senna's pain and glory
FEATURE: Foul Play or Foul Language
Scene at the 2016 Mexican Grand Prix
Mexican Grand Prix - Quotes of the week
Keep up to date with all the F1 news via Facebook and Twitter