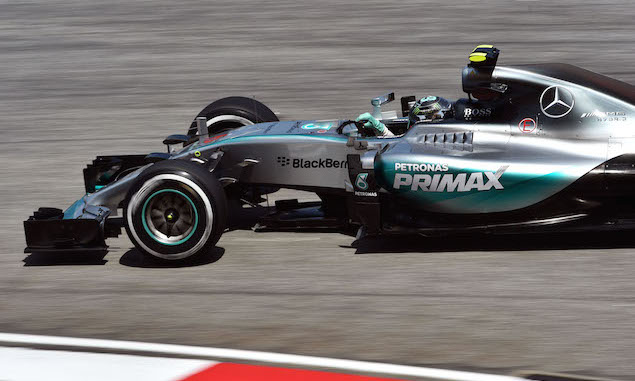 Nico Rosberg set the fastest time of the final practice session for the Malaysian Grand Prix, beating team-mate Lewis Hamilton by nearly 0.2s.
While Hamilton was quickest in FP2 on Friday, it was Rosberg who responded to post a time 0.184s faster than the 2014 world champion in Saturday's practice session, with the two Mercedes drivers over half a second clear of the field on the medium tyres.
Ferrari remained Mercedes' nearest challenger, with Kimi Raikkonen third and Sebastian Vettel fourth, separated by just 0.021s. Raikkonen's session was interrupted by a suspected left rear puncture which limited his running, while he had also been involved in a strange lap close behind Romain Grosjean as he twice saw the Lotus shut the door as Raikkonen attempted to pass.
The Mercedes advantage was coming from the high-speed corners in the middle sector, with Rosberg 0.7s quicker than everyone else but Hamilton through sector two. However, Ferrari has marked itself out as a threat if either Mercedes slips up in qualifying this afternoon.
Williams produced its usual step forward in pace during FP3, with Felipe Massa fifth ahead of team-mate Valtteri Bottas. Similar to Ferrari, both drivers were evenly matched on the medium tyres - 0.015s apart - and 0.7s off the pace set by Rosberg.
Daniel Ricciardo in seventh and Carlos Sainz Jr in eighth were also within a second of Rosberg's best time, with the Red Bull and Toro Rosso separated by 0.011s. However, Max Verstappen was a further 0.3s back in the second STR10, ahead of Marcus Ericsson's Sauber.
McLaren continued to show a step forward as Fernando Alonso ended the session in 15th place ahead of one Force India and One Sauber as part of a group of six cars - and five teams - covered by half a second. It was a more difficult session for Jenson Button, though, who had only Roberto Merhi and Will Stevens behind him after requiring an engine change due to an ICE issue discovered overnight.
With grip levels low on Friday, a number of drivers had off-track moments in final practice, with Sergio Perez running wide at Turn 9 and Merhi suffering his second spin of the weekend at the same corner.
Click here for three reasons why Honda is struggling at the start of 2015
| Pos | Driver | Team | Time | Laps |
| --- | --- | --- | --- | --- |
| 01 | N. Rosberg | Mercedes | 1:39.690 | 13 |
| 02 | L. Hamilton | Mercedes | 1:39.873 | 10 |
| 03 | K. Raikkonen | Ferrari | 1:40.245 | 9 |
| 04 | S. Vettel | Ferrari | 1:40.266 | 13 |
| 05 | F. Massa | Williams | 1:40.391 | 14 |
| 06 | V. Bottas | Williams | 1:40.406 | 15 |
| 07 | D. Ricciardo | Red Bull | 1:40.590 | 19 |
| 08 | C. Sainz | Toro Rosso | 1:40.601 | 19 |
| 09 | M. Verstappen | Toro Rosso | 1:40.989 | 18 |
| 10 | M. Ericsson | Sauber | 1:41.200 | 19 |
| 11 | R. Grosjean | Lotus | 1:41.206 | 16 |
| 12 | P. Maldonado | Lotus | 1:41.592 | 18 |
| 13 | D. Kvyat | Red Bull | 1:41.775 | 14 |
| 14 | N. Hulkenberg | Force India | 1:41.804 | 15 |
| 15 | F. Alonso | McLaren | 1:41.991 | 13 |
| 16 | S. Perez | Force India | 1:42.099 | 14 |
| 17 | F. Nasr | Sauber | 1:42.117 | 18 |
| 18 | J. Button | McLaren | 1:42.319 | 13 |
| 19 | R. Merhi | Manor | 1:46.647 | 9 |
| 20 | W. Stevens | Manor | 1:47.059 | 6 |