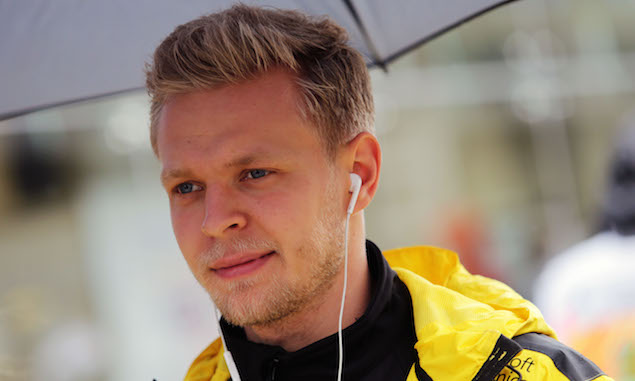 Kevin Magnussen says he would like to see refueling back in Formula One, while also calling for the end of track limits.
Refueling was banned after the 2009 season, as the sport started to move towards the current breed of 1.6-litre V6 turbocharged power units.
The idea of re-introducing refueling in grand prix racing briefly surfaced at the beginning of the 2016 campaign, as F1 chiefs looked for ways to make the series more exciting while drafting the 2017 regulations.
However, several team bosses, including Mercedes' Toto Wolff and Red Bulls' Christian Horner, swiftly moved to cast doubt on the idea, as it went against the sport's green credentials.
Answering a fan Q&A for his sponsor Jack&Jones, Magnussen was asked to pick amongst the current rules the one he would like to add and the one he would be keen to ditch.
"I would like to have refueling during the races back," replied the Dane, who has never experienced refueling in F1, having made his debut with McLaren in 2014 at the start of the latest hybrid era.
"It would be spectacular, but more importantly: You would have more variations in the strategy.
"And if I could remove one rule, it would be all the track-limit stuff. I know it´s not really a rule – it´s more a question of changing the tracks – but I think it takes something away from the sport."
As for his idea of a perfect dinner with three F1 racers, past or present, Magnussen chose a tasty trio.
"Jim Clark – he is a legend. One of the best drivers in history and it would be great to be able to talk to him. And then Ayrton Senna, of course – it would just be such a pleasure to meet him.
"And James Hunt – I am sure he would have so many cool stories. I think he was a bit of a character. Did you hear about the 33 air stewardesses in Tokyo? Go look it up on the internet…"
The 1976 world champion reportedly slept with 33 British Airways flight attendants while staying in Tokyo before that year's Japanese Grand Prix, where he sealed the crown against Niki Lauda by one point.
Quotes of the week - Interlagos
2016 Brazilian Grand Prix - Driver ratings
FULL REPORT: Hamilton wins delayed Brazilian GP to take title to wire
Keep up to date with all the F1 news via Facebook and Twitter