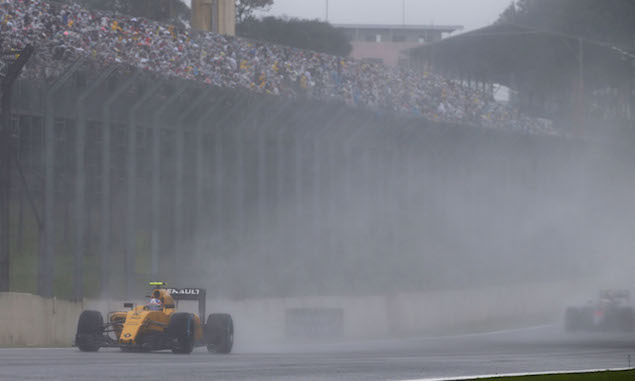 Jolyon Palmer says "I could see nothing" before hitting the back of Daniil Kvyat's Toro Rosso at last Sunday's weather-disrupted Brazilian Grand Prix, with the Renault driver retiring with a broken suspension.
Persistent rain at Interlagos led the officials to delay the start by 10 minutes before launching the 71-lap contest behind the Safety Car. The race got under way after seven laps but Marcus Ericsson's crash on Lap 13 quickly brought another neutralisation.
Barely had the race re-started on Lap 20 that Kimi Raikkonen spun into the wall and bounced back across the main straight. The event was immediately red-flagged and it then emerged that there had also been contact between Palmer and Kvyat.
"I could see nothing," the Renault driver told TV crews afterwards. "I came out of Turn 12 for the re-start, went up the hill. I had better grip than the guys in front. I was on the full wet tyre.
"I was guessing sort of where there is a kink in the road, I did not really know. I managed to get going quite well. I knew I was getting a run on Daniil, so I went for the inside and I hit him. But I saw him as I hit him."
Asked whether his move move not slightly ambitious given the poor visibility, Palmer said he did what felt right in challenging conditions.
"If you have got more grip, you have to try and overtake. The thing is you don't know where the guy in front is that you are trying to overtake. It was not ambitious, it was trying to drive to the grip.
"I could have been somewhere else and then someone behind me hit me. When no one can see, you have to drive to what you think is right."
Although Kvyat was able to continue, the Russian said his car was "undriveable" after the hit and felt it denied him a strong chance to score valuable points in a chaotic grand prix.
Quotes of the week - Interlagos
2016 Brazilian Grand Prix - Driver ratings
FULL REPORT: Hamilton wins delayed Brazilian GP to take title to wire
Keep up to date with all the F1 news via Facebook and Twitter