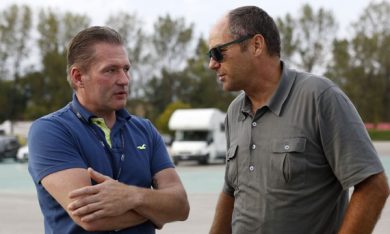 Gerhard Berger, a man who experienced firsthand the mighty talent of Ayrton Senna, believes current comparisons between the great Brazilian and Max Verstappen are fully justified.
Verstappen's remarkable demonstration of talent this year, since he graduated to Red Bull Racing, has been breathtaking.
The young Dutch prodigy won his first race in Spain but has also offered glimpses of greatness and shades of Senna on multiple occasions, like in Brazil last Sunday.
"Yes, when I see Max, Senna comes to my mind," Berger admitted.
"This is the first time I say something like this, because I was really close to Ayrton and I think he was the greatest.
"In his personality, his driving, his results, his preparation. He was different to everyone.
"I've always respected that and so I avoided comparisons, but with Max it's hard not to."
Like everyone, Berger was obviously impressed with the Red Bull drivers' mastering of the elements at Interlagos and the sheer flair he demonstrated as he charged through the field in the closing stages of the race, and earned himself a spot on the podium.
"It was awesome. He was always trying new lines, even behind the safety car he was studying the circuit. Engineers from other teams were even telling their drivers to imitate him.
"He knew exactly what to do, and it's amazing at his age. He sought and found impossible lines, making the others look like schoolboys.
"His control of the car, as he saw in the incident on the straight was crazy."
Berger refuted however claims from critics who insist that Verstappen is too arrogant.
"Someone like him can afford it," was the Austrian's laconic response.
Quotes of the week - Interlagos
2016 Brazilian Grand Prix - Driver ratings
FULL REPORT: Hamilton wins delayed Brazilian GP to take title to wire
Keep up to date with all the F1 news via Facebook and Twitter